Author Archive
Thursday, July 18th, 2019
By Chelsea Achterberg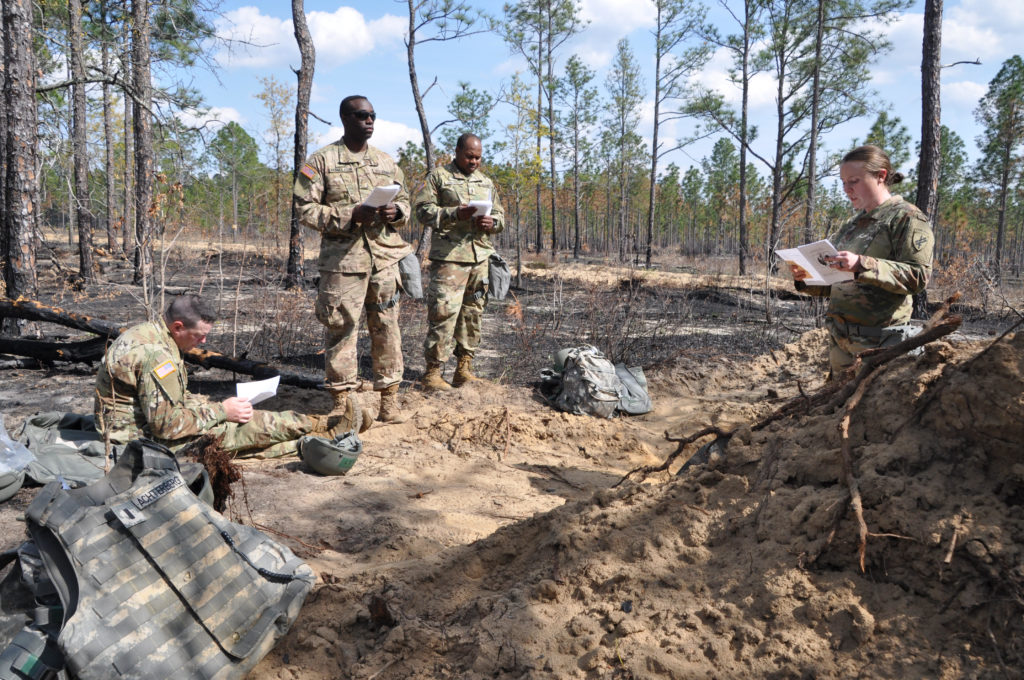 In February I spent a month learning how to jump out of airplanes, build relationships, and even do marital and personal counseling! Most people want to hear about jumping out of planes, and why not, it's sexy, adventurous, dangerous. What people need to hear about is caring for people, asking about their careers, families, faith, and the heartbreaking reality that other chaplains might refuse to care for them.
We live in a culture that says, "if you don't agree, walk away." A divestment culture — not only monetarily but also relationally. The church is no exception, as members of Proclaim or an advocate for Extraordinary Lutheran Ministries we have lived this. Our wrestling as a Church, with divestment in instances of injustice, military chaplaincy can get caught up in debates around the military as a whole. As a result we discourage military chaplaincy and have allowed for exclusionary voices to take the lead in chaplaincy.
See, I am sending you out like lambs into the midst of wolves
When I counseled a newly married military lesbian couple, hearing their stories of the struggles of distance, marriage to another soldier, and adjusting to married life, I couldn't help but be reminded, these women will face many chaplains who will not care for them. When many chaplains hear "my wife" they are going to politely but firmly say unless they want to "repent" of their sin of homosexuality they will have little to offer. Many denominations are known to tell chaplains who they are allowed to counsel and who are allowed to lead services. This is the price of divestment from chaplaincy. The face of siblings who will navigate spirituality, sexuality, and marriage without a spiritual caregiver.
There is a great need for more welcoming and affirming chaplains, and we as LGBTQIA+ pastors and seminarians bring a special witness, in addition to all of the gifts we bring as Lutherans. We have felt this pain in our own Church and many of our congregations and seminaries and we are blessed to bring that experience, along with our own identities and affirmation to those we care for. We have the opportunity to live into a vision and hope of the Gospel that many can scarcely imagine yet alone have seen.
The harvest is plentiful but the laborers are few; therefore ask the Lord of the harvest to send out laborers into his harvest.
What can you do about all of this?
Resist the call to divest relationally from military chaplaincy. It is an imperfect institution but God's children who serve deserve spiritual support from chaplains who will support them, not turn them away and cause spiritual harm.
Consider if God might be calling you (or someone you know) to military chaplaincy. If you desire adventure, are active, have a heart for people on the margins, and an eagerness to learn a new way of life, then chaplaincy might be for you!
Join the conversation. Be engaged in the work and needs of ELCA chaplains across the federal government in their care for service members, veterans, and those in prison. Meet with those local to you.
Pray for service members and their chaplains, especially our ELCA chaplains who have answered the call to care for God's people.
If you are attending the 2019 Churchwide Assembly in Milwaukee, look for military chaplains in uniform on Tuesday (Aug. 6) and have a conversation about their work!
---
Bio: Chelsea Achterberg (she/her/hers) is a Chaplain Candidate, allowing her to serve in the Army Reserves while continuing to work towards ordination. She is married to Proclaim Chaplain Mandy, together they have a house rabbit Mosby. Chelsea is enjoying a return to parish ministry as a Pastoral Intern at Holy Trinity in Charlotte, NC after two years serving in hospital chaplaincy.
Thursday, June 27th, 2019
Devotional by Rev. Amanda Gerken-Nelson
It all started in her red Pontiac Sunfire.
My aunt would come and pick me up in her "cool car" and we'd head to McDonald's to get some frenchfries. Then, we'd roll down the windows, blast ABBA on the radio, and we'd be off – licking our salty fingers along the way!
When the musical, "Mamma Mia" came out, my aunt saw it at least 10 times – any time it came to town, she was in the audience…twice!
When "Dancing Queen" came on – at the musical or on the radio – suddenly an imaginary piano appeared just above my aunt's head in time for her to play "ching-ching, ching-ching, ching-ching" along with the piano part in the song – mimicking the choreography of the main characters.
Since my aunt died eight years ago, all too suddenly from complications with her Lupus, every time "Dancing Queen" comes on the radio, I am reminded of her love and playfulness.
And when it comes on at the gay bars, suddenly an imaginary piano appears above my head just in time for me to play "ching-ching, ching-ching, ching-ching."
And in that moment, I am connected to my wholeness.
God of all love, enfold your beautifully diverse creation in your peace and pride this month as we celebrate our wholeness. Thank you for the gift of loved ones who show us your all-encompassing grace through their love. Amen.
Amanda Gerken-Nelson (she/her/hers) is pretty good at the air piano and at emphasizing "leee-berty" with her brother Paul in the ABBA song "Fernando." This weekend, as the LGBTQIA+ community celebrates World Pride, Amanda also celebrates her one year wedding anniversary to Tasha. She is grateful to all who have paved the way for her and all gender and sexual minorities to even have a legal option for marriage and a church which would bless her partnership.
Thursday, June 20th, 2019
Devotional by Rev. Paul Clark
I can picture my mother-in-law wrinkling her eyebrows in discomfort as she harrumphs the brazenly offensive lyrics of this song. How dare a chocolate confection be compared to the Savior? What a mockery of Jesus!
For many Christians like her, faith is a battle. Christ calls on us to defend him from the secular world. Following Jesus then becomes the work of building walls around, and imposing false binaries on, everything from gender identities, to marriage, to Jesus himself.
Thanks be to God, Jesus is bigger and better than this. He cannot be contained by any walls. And he certainly can handle the absurdity, irreverence, and whimsy of Chocolate Jesus.
This song, in its own silly way, reminds me that no walls or labels imposed by others can change the fact that I belong to Christ. And he most certainly can handle the absurdity, irreverence, and whimsy of a person like me.
There is more than enough room for all of our fabulous selves, literal and figurative chocolate Jesuses in hand, at Christ's table.
---
Rev. Paul Clark ( he/him/his) was unwillingly dragged by the tenacious Holy Spirit from Minnesota to California, where he served in Lutheran Campus Ministry for five years. He currently lives in Bakersfield with his husband, and spends his time preaching at Episcopalian congregations, making coffee with his Chemex, and playing Dungeons and Dragons.
Thursday, June 13th, 2019
Devotional by Rev. Miriam Samuelson-Roberts
"We're better off for all that we let in." –Indigo Girls, All That We Let In
I grew up in Atlanta, where the Indigo Girls got their start, so their presence loomed large there. I remember one summer–the summer before I came out as bi–they headlined a free concert for Pride and my friends and I, home for the summer from college, went together.
As they sang their song "All That We Let In," tears welled up in my eyes. "I don't know where it all begins / and I don't know where it all will end. / We're better off for all that we let in." I was better off for letting in the stories of people who lived fully into who they were, and I was better off for letting in acceptance for myself exactly as I was.
My wish this Pride month is that we might each let in the stories of others, and the knowledge of God's unconditional love. My hope is that those of us in the LGBTQIA+ community might let in the love and affirmation of God, who created us holy and beautiful. My call for those who support the LGBTQIA+ community is to let our stories into your own, and be changed by them.
---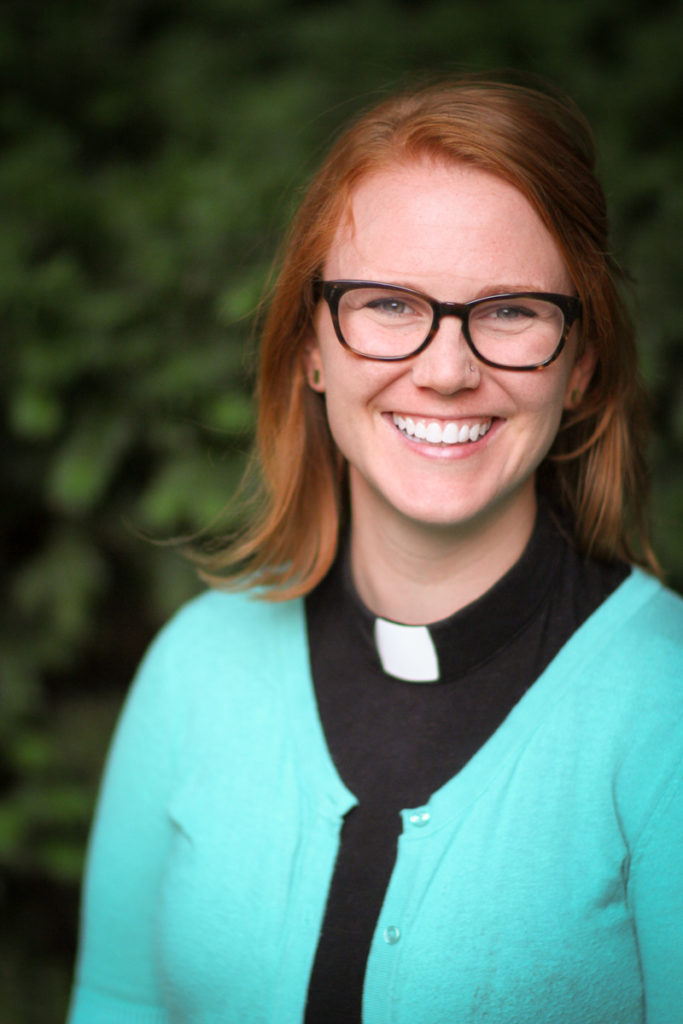 Bio: Rev. Miriam Samuelson-Roberts (she/her/hers) is Associate Pastor at Westwood Lutheran Church in St. Louis Park, MN. She identifies as bi/queer and is grateful to all the Lutheran LGBTQIA+ leaders on whose shoulders she stands. Miriam lives in Minneapolis with her husband Daniel and their daughter Esther.

Tuesday, June 4th, 2019
Devotional by Rev. Laura Kuntz
I've had the lyrics "I am made of love, and I'm stronger than you" in my head lately and it's been making me smile. They are from a song in the cartoon Steven Universe. Steven is a crystal gem who is a lot like a superhero and is learning from three other gems as they preserve and protect the Earth. The show includes non-binary and queer characters and one named Garnet that is actually a fusion of two different gems, Ruby and Sapphire. When they fused a long time ago most other gems rejected them, but they loved each other and chose to stay together. An opposing force separates them, but Garnet comes back together and sings the song "Stronger Than You."
When I heard the song I couldn't help but think about similarities in the relationship of the Trinity and the mystery and wisdom that comes from God loving God's self. We are all made of love and made in God's very image and that love is stronger than anything that tries to tell us otherwise.
This music video shows the artist Estelle who plays [is the voice of] Garnet's character performing the song and hundreds of young fans singing along which brings me so much joy! I didn't grow up with LGBTQIA+ people to look up to and I'm proud to think of all the affirming role models out there now – from cartoons to church leaders – and I am humbled to be one myself.
We are all made of God's love and stronger together!
---
Rev. Laura Kuntz (she/her/hers) is always eager to curl up with her dog Toby to watch some good TV after spending her time fly fishing, going on a family walk, or cultivating her bonsai garden. Her spouse Sara thinks the show Steven Universe is a little too strange, but that's ok.

Thursday, May 30th, 2019
Devotional By Jon Rundquist
CW: Language, Self-harm, Weapons
"Does God Bless Your Transsexual Heart?"
This poignant question comes from Laura Jane Grace the leader of Against Me! Laura Jane's question comes from the perspective of both a transwoman and someone who was once a teenage boy kicked out of a Florida church. She later wrote in her autobiography, "When a church turns you away, it feels as though God himself is rejecting you, saying you are damaged beyond His help."
This song "True Trans Soul Rebel" has been on repeat in my mind all throughout my journey in seminary and afterward. Yes, this question of God loving my transsexual heart has appeared as well. Or God's Church. More specifically, the rural congregations of the ELCA. Long before I mostly knew that I was trans, I knew that I was called to serve the rural church. As any similarly called LGBTQIA+ leader in the church, I knew that most calls for such leaders would be offered for urban-suburban congregations, due to the (generally) more frequent occurrences of affirming congregations.
I remained committed to the idea of a rural call, even (twice) committing to candidacy in a rural synod. I was going to be that "True Trans Soul Rebel". Rogue One's "Rebellions are built on Hope" has been plastered on my Facebook every time I sit in front of my candidacy committee. The first (and only) tattoo I have is that of a Star Wars rebellion symbol, colored as a trans flag (right). My version of True Trans Soul Rebel.
My most recent joy brought by this song is my 3-yr old singing, "Who's gonna take you home, tonight / Who's gonna take you home" every now and then. God's got this. Wherever this leads, God's gonna take us home. Coming out of the closet is nothing short of rebellion, and leading God's church as an out LGBTQIA+ person is truly divine.
---
Jon Rundquist (he/her/theirs) is a non-binary trans/genderqueer rebellious preacher of the rural Northwoods, where they are a stay-at-home parent and an occasional electronics team member at Target. Jon has many loves, including his wife and two children, and an affinity for sci-fi/fantasy Star Trek/Wars/Gate. Yes, that's six slashes. She hopes to one day serve in ordained ministry for the God and Church she loves. Rebellions are built on hope after all.
Thursday, May 23rd, 2019
Devotional by Carla Christopher
When I heard Aretha Franklin growl "Pride; A Deeper Love" at my very first Pride just a few months after coming out it gave me LIFE! A church girl turned survivor of conversion therapy and toxic church, being told that I was worthy of love and deserved survival was revolutionary. I twirled, skipped, and danced my way across Bryant Park in New York City with fae boys and stud women still rocking the James Dean look.
As we shared a moment in all our diversity, I knew a oneness that I hadn't experienced outside of the church. When Aretha told me getting out of bed that morning was a victory worth celebrating, I believed her. She sang that the love in my heart would give me the strength to get through the day, and I needed that strength in those days. I still do on rough days.
It wasn't until many years later that I realized as strong and confident and empowered as the song is, Aretha isn't singing to or about herself. She calls out to the people, sure. The world needs to know we are here! She lifts herself up when the world isn't there to do it. Absolutely! But, she takes a break mid-song to offer thanks to the source of all the luscious, brave goodness that she is, that we are. She asks for the strength to continue on, with the humble beauty of the Psalmist.
Not sure who this prayer is directed to? Give her gospel album a listen. Once the chills have subsided, you will hear that same power in her club anthem.
As you live bold, brave, unapologetically proud today, know that it's okay if you get tired sometimes. It's okay if you feel dysphoric today or if you didn't come out AGAIN in a new space. You're still here. You're not going any-dang-where. And you will survive…but that's another song. For today, we pray to Jesus together – "I want to thank you for helping me see there's a power that lives deep inside of me. Give me the strength to carry on, always be strong. Pride. A deeper love. Amen."
---
Carla Christopher (she/her/hers) is a seminarian at United Lutheran Seminary – Gettysburg and Vicar of Union Lutheran church in York, PA. She is the founder and co-president of the York LGBTQIA+ Resource Center and co-chair of Toward Racial Justice, the diversity task force of Lower Susquehanna Synod.
Thursday, May 16th, 2019
Devotional by Rev. Anna Tew
The LGBTQIA+ nightlife of Atlanta often represents the best of the South to me. On any given weekend night, especially in Midtown, you can find people of many races, nationalities, ages, sexual orientations, and gender identities and expressions all enjoying the night together.
On one particular evening in 2014, I was standing with my friends who are my family, watching a gorgeous drag queen perform Reba McEntire's "Is There Life Out There," and the Holy Spirit descended.
The song tells the story of a young woman from the South who married at twenty, and finds herself feeling trapped. The chorus goes like this: "Is there life out there / So much she hasn't done / Is there life beyond her family and her home / She's done what she should, should she do what she dares? / She doesn't want to leave; she's just wondering is there life out there."
Every one of us in that bar sang every word. We sang because Atlanta is a haven for us LGBTQIA+ folk in the middle of the rural South. Because we, too, once felt trapped. Because we, too, didn't want to leave our homes. Because we did what we "should" for so long before we did what we dared: to be our full selves. We pounded the air with our fists and raised our cups and sang at the top of our lungs as if to say, "We're still here – hallelujah!"
Sometimes the Holy Spirit appears as drag queen lip syncing to Reba.
Sometimes the love of God swoops in and saves your soul when you least expect it: like at a pub on a Friday night. May the love of God swoop in and save your soul again today: by land, by sea, or by drag queen. There is life out there, friends. There is.
---
Bio: The Rev. Anna Tew is a 30-something Lutheran pastor serving Our Savior's Lutheran Church (ELCA) in South Hadley, Massachusetts. A product of several places, she was born in rural Alabama, lived most of her adult life in Atlanta, and now lives in and adores New England. In her spare time, Anna enjoys climbing the nearby mountains, traveling, exploring cities and nightlife, and keeping up with politics and pop culture.
Thursday, May 9th, 2019
Devotional by Vicar Lewis Eggleston
On their way to replace a stolen coat, "I'll Cover You" is a song about a romantic love where one person (Tom Collins) acknowledges how very little physical items and finances he has to bring into this relationship and all he can offer in return are embraces, kisses, and undying love for Angel.
RENT has and will forever have a special place in my heart. I was the luckiest boy in the world to play Angel in a production after the Air Force stationed us in Oklahoma. I had just been rejected for a pastoral internship and I thought ministry in Oklahoma would not be possible because of who I was.
Playing this role anywhere takes guts; playing Angel in rural Oklahoma, felt a little "To Wong Fu." Portraying radical, unconditional love as someone from the margins shakes up the patriarchal system. Sometimes the season tickets holders would complain about the "edginess" of RENT (20 years after its debut on Broadway), some would walk out after the first Act, and some thought Angel in boy clothes was an altogether different character than Angel in girl clothes. Yet, hearts and minds were changed. The number of young LGBTQIA+ people that came up in tears after each performance was staggering. I'll never forget their stories.
Among those who supported the show, was my mother (Pictured Lower Left Corner with Proud Mom Look). The LGBTQIA+ community often create their own families, not by choice, but by necessity. In celebration of Pride in June and Mother's Day this weekend, I'm grateful my mother said "I'll Cover You." She sheltered me, hugged me, kissed me, loved me, and like Collins I can never repay her for all she's done for me, except to show her my love and gratitude. I'm thankful for all the Mama Bears out there who choose to love their LGBTQIA+ children. I pray for those in our communities that had to cut these ties so they could survive, that they are embraced by motherly figures who love them unconditionally, and I pray for all the motherly figures out there that shape our world in the way God desires. Amen.
---
Bio: Vicar Lewis Eggleston (he/him/his) is an Air Force spouse currently living in San Antonio, TX with his husband Mitchell and dog-child Carla. He attended seminary at Pacific School of Religion and Pacific Lutheran Theological Seminary in Berkeley, CA, and he is currently interning with Spirit of Joy Lutheran Church in Seguin, TX. He's been an advocate for children's access to the arts through both museum and symphony educational programming and has worked with homeless individuals and families for the past ten years. In his free time, he loves to attend musicals whilst fighting every urge to sing-along.
Thursday, May 2nd, 2019
By Rev. Dr. Megan Rohrer
Thumpa, thumpa was the sound of sugar and salt shakers flying through the windows of the Compton's Cafeteria in San Francisco during the 1966 rebellion against biased policing. 
Thumpa, thumpa was the vibrating beat behind Harvey Milk's protest against Coors Beer in 1969. 
Thumpa, thumpa echoed from the sound of high heels and bricks during the 1969 raid at the Stonewall Inn in New York City. 
Thumpa, thumpa was the music last heard in 1973 before thirty-one men and women died in the fire at the Upstairs Lounge in New Orleans French Quarter 
Thumpa, thumpa was heard in the Pulse Nightclub in 2016 before 49 people were gunned down in Orlando, Florida. 
Thumpa, thumpa was heard at Ghost Ship in Oakland before the 2016 blaze killed 36.  
Standing on the corner of 18th and Castro in San Francisco, with the blaring thumpa, thumpa bleeding into the street that had witnessed the first mention of HIV/AIDs, I shouted "out of the bars and into the streets."  These iconic words of Harvey Milk were a nod to the queeros who had come before me and a literal call to action for the LGBTQ community. After the Pulse shooting, I declared that we not only had to come out of the bars, but out of the congregations, synagogues and mosques to proclaim the love of God to all and to counter the angery lies of those who assumed God could not love the full fabulousness of the LGBTQ community. 
Today I want to remind you that just as we have transitioned from Lent to Easter, during the season of Pride we must live boldly and forgive more boldly still.  Our extravagantly fabulous life must not only mourn the aches that we carry, but embrace the sound and the rhythm of the thumpa, thumpa. 
Let us dance for those who sought the joy and freedom of LGBTQ bars and were met with violence. 
Let us dance long enough to decide to keep living. Let us dance for a beautiful generation that was lost to the AIDs epidemic. 
Let us dance for those who brought us camp and drag, when all we could muster were tears. 
Let us dance because it is our best revenge in a time when our rights are debated. 
Let us dance for the liberation we are still marching towards. Let us dance in celebration of the gift that is our sacred sexuality. Let us dance because we are fearfully and wonderfully made.   
Let us dance in celebration of a God who always joins us in the dancing.   
Just as God came to Moses in the burning bush, to Jacob in a wrestling match, Ezekiel in dreams and Hildebrand in visions, may God find you in the thumpa, thumpa.  Amen.

---
Bio: The Rev. Dr. Megan Rohrer is the pastor of Grace Evangelical Lutheran Church and Executive Director of Welcome – a communal response to poverty in San Francisco, CA. Pastor Megan is an author, artist, activist and educator who speaks and preaches nationally on issues of homelessness, sexuality and gender. Pastor Rohrer was a 2014 honorable mention as an Unsung Hero of Compassion with His Holiness the Dalai Lama, was named honorary royalty and presented a Medal of Tolerance in Indonesia, received an Honorary Doctorate from Palo Alto University, Distinguished Alum award from the Pacific School of Religion in Berkeley, is an award wining historian, musician, filmmaker and was a finalist for a Lambda Literary Award in transgender nonfiction.