Each year ELM names a Joel R. Workin Memorial Scholar to honor the life and ministry of Joel Workin. Joel was one of the three gay seminarians who were refused ordination in 1989 after "coming out" to their candidacy committees.
This scholarship is for academic or spiritual study and is available for members of Proclaim who are studying to be rostered leaders in the Lutheran church.
This Joel R. Workin Memorial award recognizes a gender and sexual minority leader who embodies Joel's passion for justice and faith in their lives and ministry. The award must be used for academic or spiritual study. In addition, the Scholar may be invited throughout the year to be involved with various ELM activities.
More about Joel Workin:
Joel Raydon Workin (1961-1995) was born in Fargo, ND, and grew up on a farm in nearby Walcott. He received his Master of Divinity from Pacific Lutheran Theological Seminary, Berkeley, CA. In 1986 Joel interned at Holy Trinity Lutheran Church, Inglewood, CA.
In the fall of 1987, Joel came out publicly as a gay candidate for the ordained ministry and was certified for call by the American Lutheran Church (a predecessor body to the Evangelical Lutheran Church in America). Following this courageous and faithful act, Joel's certification was revoked by the ELCA and his name was never placed on the roster of approved candidates waiting for call.
Joel's ministry continued in Los Angeles, however, at the AIDS Healthcare Foundation and as Director of Chris Brownlie Hospice. On December 30, 1988, Joel married Paul Jenkins. Joel was a member of St. Matthew's Lutheran Church, North Hollywood. He and Paul were active in Lutherans Concerned/Los Angeles and Dignity/Los Angeles. Paul and Joel both died from AIDS – Paul on June 6, 1993, and Joel on November 29, 1995. 
In the last weeks of his illness, Joel gave his friends and family permission to sponsor an endowed memorial fund in his name. The Joel R. Workin Memorial Scholarship Fund was thus established upon his death.
"Dear God, I am Gay — thank you!" by Joel Workin 2nd Edition Released
Information on ordering the book here.
The new edition features a new foreword by the Rev. Erik Christensen, as well as several never before published sermons, including the sermon Joel preached at the Rev. Jeff Johnson's installation at First United Lutheran Church in 1990. Editor Michael Nelson has gone through stacks of material to select pieces for the new book. Joel's parents, Betty and Ray Workin have generously underwritten the costs of the second edition. Proceeds benefit ELM's mission.
Read the Rev. Erik Christensen's foreword to Joel Workin's book here.
Past recipients:
Reed Fowler; 2020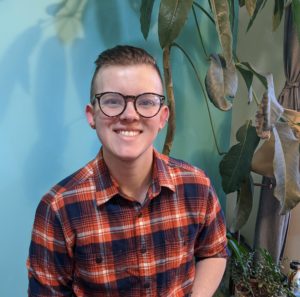 Cassie Hartnett; 2019
S. Leon LaCross; 2018
Rev. Benjamin Hogue; 2017
Christephor Gilbert; 2016
Justin Ferko; 2015
Rev. Amy Christine Hanson; 2014
Rev. Gretchen Colby Rode; 2013
Rev. Rebecca Seely; 2012
Rev. Asher O'Callaghan; 2012
Rev. Emily Ewing;  2011
Rev. Laura Kuntz; 2011
Rev. Julie Boleyn; 2009
Rev. Matthew James; 2007
Rev. Jen Rude; 2006

If you would like to make a gift designated for the Joel R. Workin Endowment Fund, please contact the Executive Director at director@elm.org 
Please consider making a planned gift from your estate to this fund.