Uncategorized
Thursday, July 18th, 2019
By Chelsea Achterberg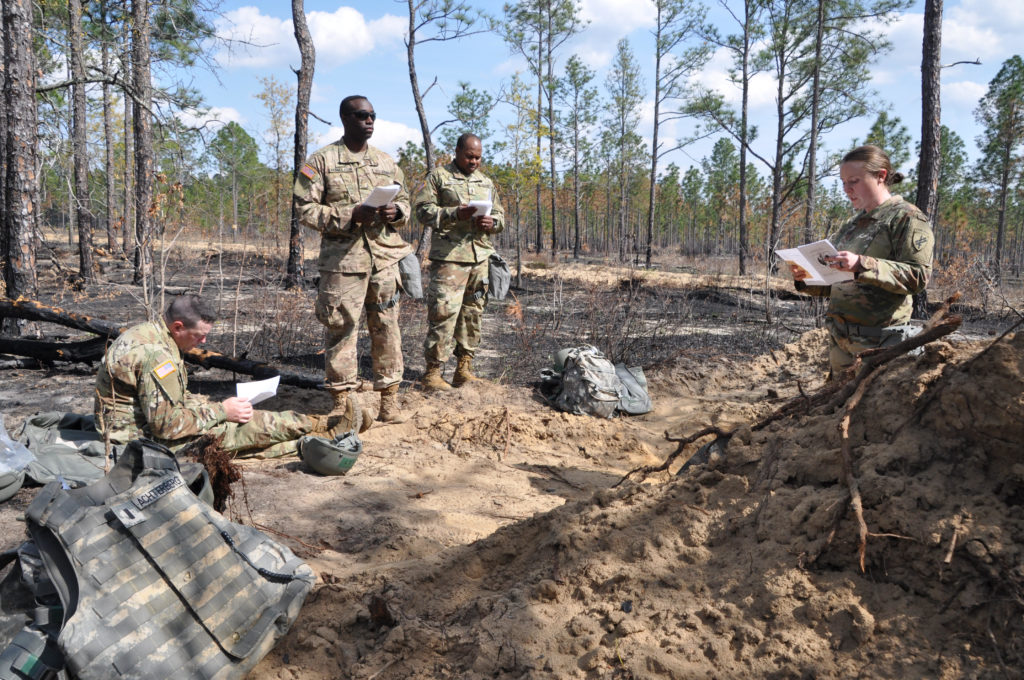 In February I spent a month learning how to jump out of airplanes, build relationships, and even do marital and personal counseling! Most people want to hear about jumping out of planes, and why not, it's sexy, adventurous, dangerous. What people need to hear about is caring for people, asking about their careers, families, faith, and the heartbreaking reality that other chaplains might refuse to care for them.
We live in a culture that says, "if you don't agree, walk away." A divestment culture — not only monetarily but also relationally. The church is no exception, as members of Proclaim or an advocate for Extraordinary Lutheran Ministries we have lived this. Our wrestling as a Church, with divestment in instances of injustice, military chaplaincy can get caught up in debates around the military as a whole. As a result we discourage military chaplaincy and have allowed for exclusionary voices to take the lead in chaplaincy.
See, I am sending you out like lambs into the midst of wolves
When I counseled a newly married military lesbian couple, hearing their stories of the struggles of distance, marriage to another soldier, and adjusting to married life, I couldn't help but be reminded, these women will face many chaplains who will not care for them. When many chaplains hear "my wife" they are going to politely but firmly say unless they want to "repent" of their sin of homosexuality they will have little to offer. Many denominations are known to tell chaplains who they are allowed to counsel and who are allowed to lead services. This is the price of divestment from chaplaincy. The face of siblings who will navigate spirituality, sexuality, and marriage without a spiritual caregiver.
There is a great need for more welcoming and affirming chaplains, and we as LGBTQIA+ pastors and seminarians bring a special witness, in addition to all of the gifts we bring as Lutherans. We have felt this pain in our own Church and many of our congregations and seminaries and we are blessed to bring that experience, along with our own identities and affirmation to those we care for. We have the opportunity to live into a vision and hope of the Gospel that many can scarcely imagine yet alone have seen.
The harvest is plentiful but the laborers are few; therefore ask the Lord of the harvest to send out laborers into his harvest.
What can you do about all of this?
Resist the call to divest relationally from military chaplaincy. It is an imperfect institution but God's children who serve deserve spiritual support from chaplains who will support them, not turn them away and cause spiritual harm.
Consider if God might be calling you (or someone you know) to military chaplaincy. If you desire adventure, are active, have a heart for people on the margins, and an eagerness to learn a new way of life, then chaplaincy might be for you!
Join the conversation. Be engaged in the work and needs of ELCA chaplains across the federal government in their care for service members, veterans, and those in prison. Meet with those local to you.
Pray for service members and their chaplains, especially our ELCA chaplains who have answered the call to care for God's people.
If you are attending the 2019 Churchwide Assembly in Milwaukee, look for military chaplains in uniform on Tuesday (Aug. 6) and have a conversation about their work!
---
Bio: Chelsea Achterberg (she/her/hers) is a Chaplain Candidate, allowing her to serve in the Army Reserves while continuing to work towards ordination. She is married to Proclaim Chaplain Mandy, together they have a house rabbit Mosby. Chelsea is enjoying a return to parish ministry as a Pastoral Intern at Holy Trinity in Charlotte, NC after two years serving in hospital chaplaincy.
Thursday, July 11th, 2019
Special thanks to Currents in Theology and Mission (www.currentsjournal.org) for allowing Extraordinary Lutheran Ministries to share this excellent resource with our wider ELM community! Click their link to read other great articles from this quarterly publication.
Proclaimer Lectionary Series– PDF File 
Thursday, June 20th, 2019
Devotional by Rev. Paul Clark
I can picture my mother-in-law wrinkling her eyebrows in discomfort as she harrumphs the brazenly offensive lyrics of this song. How dare a chocolate confection be compared to the Savior? What a mockery of Jesus!
For many Christians like her, faith is a battle. Christ calls on us to defend him from the secular world. Following Jesus then becomes the work of building walls around, and imposing false binaries on, everything from gender identities, to marriage, to Jesus himself.
Thanks be to God, Jesus is bigger and better than this. He cannot be contained by any walls. And he certainly can handle the absurdity, irreverence, and whimsy of Chocolate Jesus.
This song, in its own silly way, reminds me that no walls or labels imposed by others can change the fact that I belong to Christ. And he most certainly can handle the absurdity, irreverence, and whimsy of a person like me.
There is more than enough room for all of our fabulous selves, literal and figurative chocolate Jesuses in hand, at Christ's table.
---
Rev. Paul Clark ( he/him/his) was unwillingly dragged by the tenacious Holy Spirit from Minnesota to California, where he served in Lutheran Campus Ministry for five years. He currently lives in Bakersfield with his husband, and spends his time preaching at Episcopalian congregations, making coffee with his Chemex, and playing Dungeons and Dragons.
Thursday, June 13th, 2019
Devotional by Rev. Miriam Samuelson-Roberts
"We're better off for all that we let in." –Indigo Girls, All That We Let In
I grew up in Atlanta, where the Indigo Girls got their start, so their presence loomed large there. I remember one summer–the summer before I came out as bi–they headlined a free concert for Pride and my friends and I, home for the summer from college, went together.
As they sang their song "All That We Let In," tears welled up in my eyes. "I don't know where it all begins / and I don't know where it all will end. / We're better off for all that we let in." I was better off for letting in the stories of people who lived fully into who they were, and I was better off for letting in acceptance for myself exactly as I was.
My wish this Pride month is that we might each let in the stories of others, and the knowledge of God's unconditional love. My hope is that those of us in the LGBTQIA+ community might let in the love and affirmation of God, who created us holy and beautiful. My call for those who support the LGBTQIA+ community is to let our stories into your own, and be changed by them.
---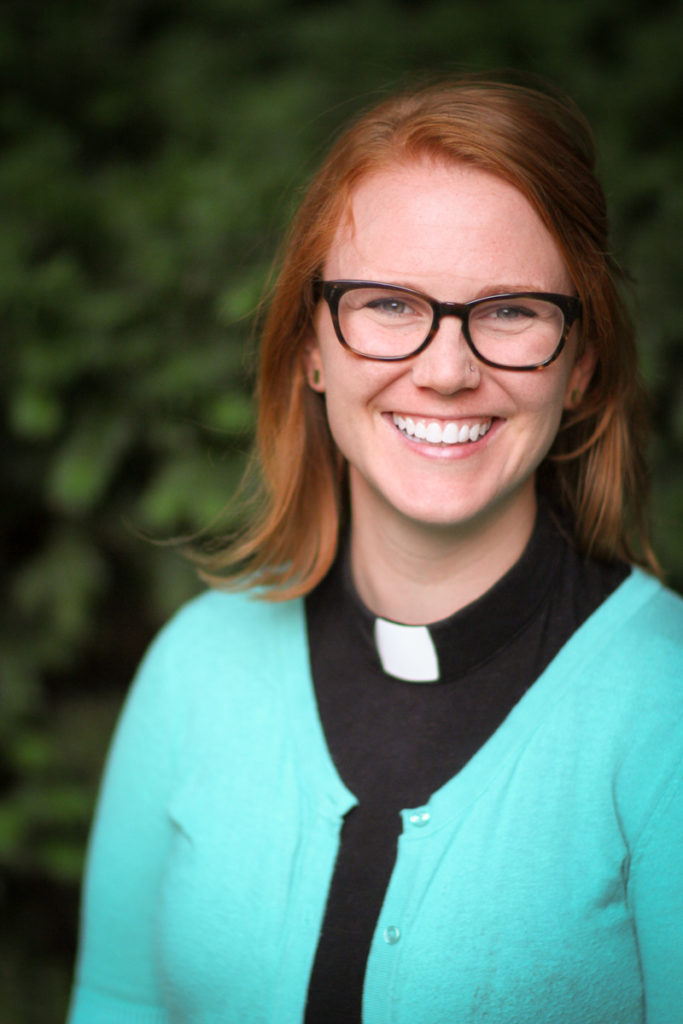 Bio: Rev. Miriam Samuelson-Roberts (she/her/hers) is Associate Pastor at Westwood Lutheran Church in St. Louis Park, MN. She identifies as bi/queer and is grateful to all the Lutheran LGBTQIA+ leaders on whose shoulders she stands. Miriam lives in Minneapolis with her husband Daniel and their daughter Esther.

Tuesday, June 4th, 2019
Devotional by Rev. Laura Kuntz
I've had the lyrics "I am made of love, and I'm stronger than you" in my head lately and it's been making me smile. They are from a song in the cartoon Steven Universe. Steven is a crystal gem who is a lot like a superhero and is learning from three other gems as they preserve and protect the Earth. The show includes non-binary and queer characters and one named Garnet that is actually a fusion of two different gems, Ruby and Sapphire. When they fused a long time ago most other gems rejected them, but they loved each other and chose to stay together. An opposing force separates them, but Garnet comes back together and sings the song "Stronger Than You."
When I heard the song I couldn't help but think about similarities in the relationship of the Trinity and the mystery and wisdom that comes from God loving God's self. We are all made of love and made in God's very image and that love is stronger than anything that tries to tell us otherwise.
This music video shows the artist Estelle who plays [is the voice of] Garnet's character performing the song and hundreds of young fans singing along which brings me so much joy! I didn't grow up with LGBTQIA+ people to look up to and I'm proud to think of all the affirming role models out there now – from cartoons to church leaders – and I am humbled to be one myself.
We are all made of God's love and stronger together!
---
Rev. Laura Kuntz (she/her/hers) is always eager to curl up with her dog Toby to watch some good TV after spending her time fly fishing, going on a family walk, or cultivating her bonsai garden. Her spouse Sara thinks the show Steven Universe is a little too strange, but that's ok.

Thursday, May 16th, 2019
Devotional by Rev. Anna Tew
The LGBTQIA+ nightlife of Atlanta often represents the best of the South to me. On any given weekend night, especially in Midtown, you can find people of many races, nationalities, ages, sexual orientations, and gender identities and expressions all enjoying the night together.
On one particular evening in 2014, I was standing with my friends who are my family, watching a gorgeous drag queen perform Reba McEntire's "Is There Life Out There," and the Holy Spirit descended.
The song tells the story of a young woman from the South who married at twenty, and finds herself feeling trapped. The chorus goes like this: "Is there life out there / So much she hasn't done / Is there life beyond her family and her home / She's done what she should, should she do what she dares? / She doesn't want to leave; she's just wondering is there life out there."
Every one of us in that bar sang every word. We sang because Atlanta is a haven for us LGBTQIA+ folk in the middle of the rural South. Because we, too, once felt trapped. Because we, too, didn't want to leave our homes. Because we did what we "should" for so long before we did what we dared: to be our full selves. We pounded the air with our fists and raised our cups and sang at the top of our lungs as if to say, "We're still here – hallelujah!"
Sometimes the Holy Spirit appears as drag queen lip syncing to Reba.
Sometimes the love of God swoops in and saves your soul when you least expect it: like at a pub on a Friday night. May the love of God swoop in and save your soul again today: by land, by sea, or by drag queen. There is life out there, friends. There is.
---
Bio: The Rev. Anna Tew is a 30-something Lutheran pastor serving Our Savior's Lutheran Church (ELCA) in South Hadley, Massachusetts. A product of several places, she was born in rural Alabama, lived most of her adult life in Atlanta, and now lives in and adores New England. In her spare time, Anna enjoys climbing the nearby mountains, traveling, exploring cities and nightlife, and keeping up with politics and pop culture.
Tuesday, May 14th, 2019
Reflection by Deacon Ross Murray
---
The movement for LGBTQIA+ inclusion in the full life of the church lost a saint when Tim Fisher died.
For the casual observer of the Lutheran LGBTQIA+ movement, Tim and his work may not have been immediately apparent. He wasn't someone who sought the spotlight, but worked diligently in support of others in the movement. Tim wasn't a member of Proclaim. He wasn't clergy or a deacon. He was a layperson, an administrator, a writer, an editor. And his calling was so clear and apparent to everyone who knew him. He was my colleague at ReconcilingWorks (though at the time, the organization was known as Lutherans Concerned/North America).
Tim's ministry went beyond the issue of ordination, relationship recognition, or church policy. He worked, systematically, pragmatically, relationally, that we could become a church that continued to take steps that welcome, include, and utilize the gifts that we all, clergy or lay, bring to the church. A brilliant writer, he penned articles, op-eds, and social media statuses that informed, inspired, and challenged.
Tim was a quiet, non-anxious presence at Churchwide meetings. He listened to proceedings carefully, talked strategically with those who supported inclusion, gracefully engaged with those who were movable but had concerns, and gently challenging those who were in opposition to inclusion. Tim used his privilege and his presence to bring people from a place of rejection, to tolerance, to acceptance, and in some cases, even advocacy for LGBTQIA+ people in the life of the church.
Tim was a straight man, who followed his calling to work for the Lutheran movement for LGBTQIA+ people. I was blessed to work with Tim on a conference for ReconcilingWorks in San Francisco in 2008, featuring a three-hour training on storytelling for change. After the training, Tim sat for a video, to practice his storytelling. In the video, Tim moves from uncertainty and discomfort to an increasing assertion that he has been the recipient of ministry and blessing, and that his work is essential to continue that blessing.
Tim fought for LGBTQIA+ people to be included in the church, because he was already the recipient of their ministry. Even after his death, the cycle of ministry continues. Tim was ministered to by LGBTQIA+ people, and because of that, he wanted to be in a ministry that would include LGBTQIA+ people into the life of the church. Because of Tim's ministry, we have hundreds of openly LGBTQIA+ people fulfilling their calling to ministry, at the altar, in the pulpit, in organizations, and on the street, all over the country and world.
The cycle of ministry and advocacy for the LGBTQIA+ community will continue, both within and outside the Lutheran Church. Tim Fisher's calling was to push that cycle along. And for that, we can say, "Thanks be to God."
---
Deacon Ross Murray is the Senior Director of Education & Training at The GLAAD Media Institute (https://www.glaad.org/), which provides activist, spokesperson, and media engagement training and education for LGBTQ and allied community members and organizations desiring to deepen their media impact. Ross uses the best practices perfected by GLAAD to train a new generation of advocates in order to accelerate acceptance for LGBTQ people, as well as other marginalized communities.
Ross is also a founder and director of The Naming Project (https://www.thenamingproject.org/), a faith-based camp for LGBTQ youth and their allies. The Naming Project has also been the subject of much media, including the award-winning film Camp Out, as well as the controversial episode "Pray the Gay Away?" of Our America with Lisa Ling.
Ross has secured national media interest in stories that bring examples of LGBTQ equality across diverse communities in America. He specializes in relationship between religion and LGBTQ people. He has written and appeared on numerous media outlets, including CNN, MSNBC, Al Jazeera, The Washington Post, Huffington Post, and Religion News Service. In 2014, he was named one of Mashable's "10 LGBT-Rights Activists to Follow on Twitter."
---
Wednesday, April 10th, 2019
"It's just so hard to be in this process," I said, "because I have no idea where I'll be six months from now! Normally I'd have an idea of what would be happening, but in the call process I could be anywhere in the country by then!"
She raised one eyebrow and gave me a pointed look, "nothing has actually changed. You haven't actually lost control – only the illusion of having control to begin with. None of us really know what will happen to us in six months."
My therapist knew how to offer me the gifts of wilderness. The wilderness strips away what was only an illusion and leaves us vulnerable to the truth: we never know what is coming next. A year-long call/coming out process filled with nine rejections was not the kind of wilderness I would have chosen. It was painful and raw and disheartening.
I don't think God sent it into my life as some kind of twisted lesson.
But that doesn't mean that God didn't get to work stripping away my comforts, illusions, and self-identity until only the essentials were left: Child-of-God, beloved-queer, created-and-called.
This particular wilderness story has a happy ending: a congregation I adore and one that loves me back; a call that challenges me and makes me more myself; a community that is passionate and dedicated to the gospel. But, for every wilderness out of which I wander, another one presents itself almost as quickly. And, I am learning, ever so slowly, to hand myself over to that wilderness road, trusting that the gifts are still there.
"The Uses of Sorrow"
(In my sleep I dreamed this poem)
Someone I loved once gave me
a box full of darkness.
It took me years to understand
that this, too, was a gift.
by Mary Oliver, from Thirst, 2007. Beacon Press.
---
The Rev. Megan D. Elliott is the pastor of Spirit of Joy Lutheran Church in Seguin, Texas. Before coming to Spirit of Joy she was the pastor at Abiding Savior Lutheran Church in Alliance, Ohio. This summer she will celebrate 10 years in ordained ministry! When she's not pastoring you might find her playing with her dogs, reading, running, crocheting, or enjoying anything to do with music. She has special talents for making babies fall asleep, folding fitted sheets, and buying entirely too many books.
Thursday, March 28th, 2019
By Rev. Brad Froslee
Ash Wednesday marked the twenty-sixth anniversary of my "official" coming out.  It was on this night, following the Ash Wednesday worship service, that I began sharing with friends a truth about myself—my being gay.  The worship service with its message of facing the fullness of life, of death, and life beyond death became the nudge that pushed me towards authentic living—marked in the brokenness and the beauty of the cross.  In the face of this period, a time marked by the AIDS pandemic, the stories of families disowning children, of ex-gay therapies, I knew that being marked with the ashes of the cross was God's call to living fully, authentically, and faithfully…here and now. 
It would be eleven years later, nearly two weeks after Easter, that I would be ordained as a Lutheran pastor with a call to serve a Presbyterian Church. 
The years between that Ash Wednesday service in college and the Easter-season ordination would, in many ways, feel like a time of wandering through the wilderness—of keeping faith in the midst of a broken Church; of trekking across the country for school, of journeying to the other side of the country for CPE and again for Internship; of longing to find someone to share my life with; of meeting with a candidacy committee that threw Vision & Expectations in my face—only to approve me, because I wasn't in a relationship at that time; of the hard work and challenges of staying hopeful when there was interview after interview with congregations who thought I was great, but weren't quite ready for a "gay pastor." 
Yet, now as I look back at these eleven years of "wandering in the wilderness" I realize how this time has formed me as the pastor and person I am today.
 I met some of the most amazing people and communities of faith; there was laughter, love, and strength mixed with the tears and frustrations; there were opportunities for side-winding trips—like being a publicist for a drag queen, waiting tables, caring for people living with HIV/AIDS, working alongside recent immigrants, immersing myself in justice work—that were life-giving; there were signs of God's presence and care along the way. 
As I reflect on the sojourners of the Exodus, I hold on to the struggles, the questions, and the pain of the wilderness; yet, I am aware of how it formed them, how it forms us,  into a people of new and renewed faith and promise who dream and journey toward a place of promise.
---
Bio: Brad Froslee (he/him/his) lives in Minneapolis with his husband, Bill. Their family also includes a very active 8 year-old son, a Border Collie, and a tabby cat. Brad serves as senior pastor at St. Michael's Lutheran Church in Roseville.
Tuesday, March 19th, 2019
Dear Members of the ELCA Church Council,
Extraordinary Lutheran Ministries believes "Trustworthy Servants of the People of God" is fundamentally flawed in development, content, and implementation and should not be approved by the ELCA Church Council.
The premise of "Trustworthy Servants" and its predecessor, "Vision and Expectations," is unethical. A simple revision of either document fails to eliminate their fundamental flaw: the fact that they were created to label and exclude marginalized leaders.
They should both be let go and set aside.
These documents claim to lift up the ethical standards of our church, yet were crafted to police human sexuality, especially with respect to candidates for rostered ministry. Both documents explicitly focus on a narrow construction of acceptable sexual expression and demean and dehumanize many who are and might be called to professional ministry within the church. Both "Trustworthy Servants" and "Vision & Expectations" confuse what qualifies as healthy intimacy and sexual expression and behaviors that should be labeled as misconduct.
Many gender and sexual minority leaders do not see themselves, their community, their families, or their values reflected in this document. ELM mourns and protests the dangerously narrow scope our Church seems to be using to define "trustworthy:" hyper-focusing on sexual expression while, for example, ignoring the needs of people with disabilities and failing to name white supremacy as sinful.
"Trustworthy Servants" and "Vision & Expectations" are morally compromised documents. They should have no moral or juridical authority over the body of Christ. Therefore, if approved, we refuse to be guided by this document or to advise seminarians, candidates or rostered leaders to shape their lives, conscience, or behavior according to their pages.
In Christ's love,
Rev. Amanda Gerken-Nelson, Executive Director and The ELM Board of Directors