Archive for June, 2019
Thursday, June 27th, 2019
Devotional by Rev. Amanda Gerken-Nelson
It all started in her red Pontiac Sunfire.
My aunt would come and pick me up in her "cool car" and we'd head to McDonald's to get some frenchfries. Then, we'd roll down the windows, blast ABBA on the radio, and we'd be off – licking our salty fingers along the way!
When the musical, "Mamma Mia" came out, my aunt saw it at least 10 times – any time it came to town, she was in the audience…twice!
When "Dancing Queen" came on – at the musical or on the radio – suddenly an imaginary piano appeared just above my aunt's head in time for her to play "ching-ching, ching-ching, ching-ching" along with the piano part in the song – mimicking the choreography of the main characters.
Since my aunt died eight years ago, all too suddenly from complications with her Lupus, every time "Dancing Queen" comes on the radio, I am reminded of her love and playfulness.
And when it comes on at the gay bars, suddenly an imaginary piano appears above my head just in time for me to play "ching-ching, ching-ching, ching-ching."
And in that moment, I am connected to my wholeness.
God of all love, enfold your beautifully diverse creation in your peace and pride this month as we celebrate our wholeness. Thank you for the gift of loved ones who show us your all-encompassing grace through their love. Amen.
Amanda Gerken-Nelson (she/her/hers) is pretty good at the air piano and at emphasizing "leee-berty" with her brother Paul in the ABBA song "Fernando." This weekend, as the LGBTQIA+ community celebrates World Pride, Amanda also celebrates her one year wedding anniversary to Tasha. She is grateful to all who have paved the way for her and all gender and sexual minorities to even have a legal option for marriage and a church which would bless her partnership.
Thursday, June 20th, 2019
Devotional by Rev. Paul Clark
I can picture my mother-in-law wrinkling her eyebrows in discomfort as she harrumphs the brazenly offensive lyrics of this song. How dare a chocolate confection be compared to the Savior? What a mockery of Jesus!
For many Christians like her, faith is a battle. Christ calls on us to defend him from the secular world. Following Jesus then becomes the work of building walls around, and imposing false binaries on, everything from gender identities, to marriage, to Jesus himself.
Thanks be to God, Jesus is bigger and better than this. He cannot be contained by any walls. And he certainly can handle the absurdity, irreverence, and whimsy of Chocolate Jesus.
This song, in its own silly way, reminds me that no walls or labels imposed by others can change the fact that I belong to Christ. And he most certainly can handle the absurdity, irreverence, and whimsy of a person like me.
There is more than enough room for all of our fabulous selves, literal and figurative chocolate Jesuses in hand, at Christ's table.
---
Rev. Paul Clark ( he/him/his) was unwillingly dragged by the tenacious Holy Spirit from Minnesota to California, where he served in Lutheran Campus Ministry for five years. He currently lives in Bakersfield with his husband, and spends his time preaching at Episcopalian congregations, making coffee with his Chemex, and playing Dungeons and Dragons.
Thursday, June 13th, 2019
Devotional by Rev. Miriam Samuelson-Roberts
"We're better off for all that we let in." –Indigo Girls, All That We Let In
I grew up in Atlanta, where the Indigo Girls got their start, so their presence loomed large there. I remember one summer–the summer before I came out as bi–they headlined a free concert for Pride and my friends and I, home for the summer from college, went together.
As they sang their song "All That We Let In," tears welled up in my eyes. "I don't know where it all begins / and I don't know where it all will end. / We're better off for all that we let in." I was better off for letting in the stories of people who lived fully into who they were, and I was better off for letting in acceptance for myself exactly as I was.
My wish this Pride month is that we might each let in the stories of others, and the knowledge of God's unconditional love. My hope is that those of us in the LGBTQIA+ community might let in the love and affirmation of God, who created us holy and beautiful. My call for those who support the LGBTQIA+ community is to let our stories into your own, and be changed by them.
---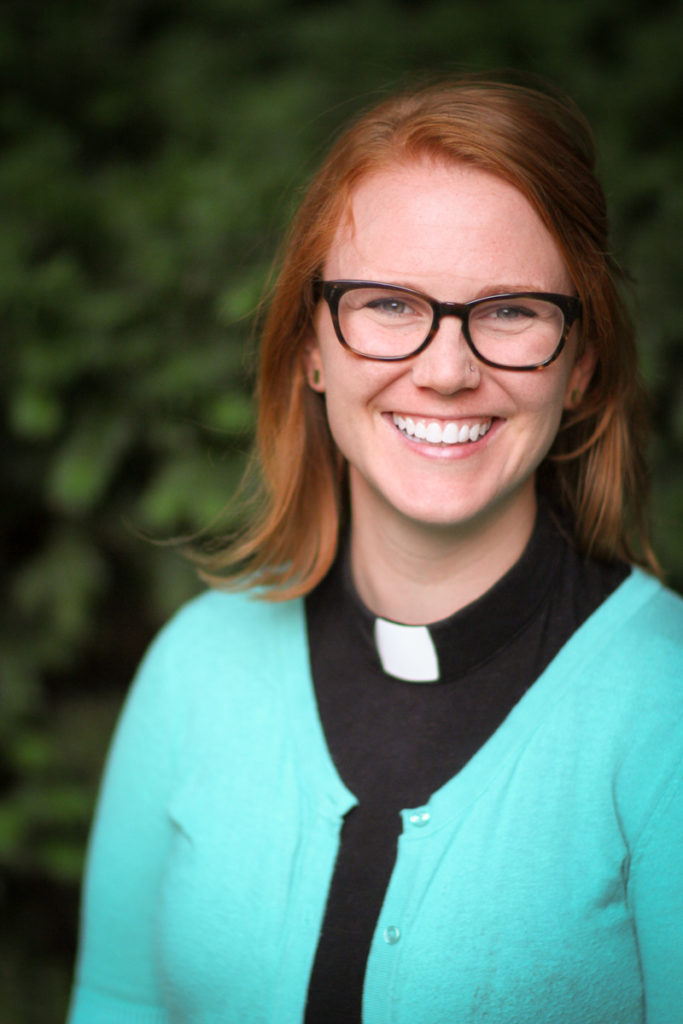 Bio: Rev. Miriam Samuelson-Roberts (she/her/hers) is Associate Pastor at Westwood Lutheran Church in St. Louis Park, MN. She identifies as bi/queer and is grateful to all the Lutheran LGBTQIA+ leaders on whose shoulders she stands. Miriam lives in Minneapolis with her husband Daniel and their daughter Esther.

Tuesday, June 4th, 2019
Devotional by Rev. Laura Kuntz
I've had the lyrics "I am made of love, and I'm stronger than you" in my head lately and it's been making me smile. They are from a song in the cartoon Steven Universe. Steven is a crystal gem who is a lot like a superhero and is learning from three other gems as they preserve and protect the Earth. The show includes non-binary and queer characters and one named Garnet that is actually a fusion of two different gems, Ruby and Sapphire. When they fused a long time ago most other gems rejected them, but they loved each other and chose to stay together. An opposing force separates them, but Garnet comes back together and sings the song "Stronger Than You."
When I heard the song I couldn't help but think about similarities in the relationship of the Trinity and the mystery and wisdom that comes from God loving God's self. We are all made of love and made in God's very image and that love is stronger than anything that tries to tell us otherwise.
This music video shows the artist Estelle who plays [is the voice of] Garnet's character performing the song and hundreds of young fans singing along which brings me so much joy! I didn't grow up with LGBTQIA+ people to look up to and I'm proud to think of all the affirming role models out there now – from cartoons to church leaders – and I am humbled to be one myself.
We are all made of God's love and stronger together!
---
Rev. Laura Kuntz (she/her/hers) is always eager to curl up with her dog Toby to watch some good TV after spending her time fly fishing, going on a family walk, or cultivating her bonsai garden. Her spouse Sara thinks the show Steven Universe is a little too strange, but that's ok.