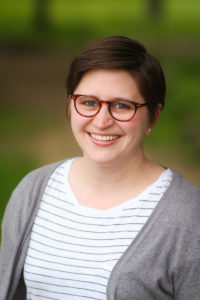 It is with great joy and excitement that Extraordinary Lutheran Ministries announces that the Rev. Amanda Nelson (she/her/hers) has been selected as the new Executive Director! Amanda brings a breadth of experience and personal connection to Extraordinary Lutheran Ministries that leads her to be well equipped to further the mission and vision of ELM.
As Executive Director, Amanda will provide vision, direction, and leadership to ELM by partnering with the Board of Directors, managing staff, and guiding program implementation. She will also lead fund development, as well as operate as an ambassador for ELM, developing partnerships and relationships. Amanda begins in early August and will work from New England.
Search Committee co-chairs Rev. Dr. Elise Brown and Lois Voss write,
"This has been a Spirit-filled process. The caliber of candidates who applied affirms ELM's strength as an organization and points towards a very strong future. Amanda was the unanimous final choice for the search committee and was affirmed by a unanimous vote of the Board of Directors. Amanda has the passion, competency, development skills and executive abilities to lead Extraordinary Lutheran Ministries into the strategic directions we have worked on together. We are energized by the vision and passion she brings to our mission."
The two-month search was lead by a team selected by the ELM Board of Directors. In addition to co-chairs Rev. Elise Brown and Lois Voss, the team included Emily Ann Garcia, Mack Patrick (Proclaim Seminarian), the Rev. Jeff Johnson (Proclaim), and Ben Hogue (Proclaim Seminarian). The committee conducted five web and three in-person interviews with finalists before making their final recommendation.
Amanda writes,
"I am overjoyed at the opportunity to serve as Executive Director of Extraordinary Lutheran Ministries and to give back to an organization whose ministries have supported me and helped me in my own journey to be a proud, publicly out, queer minister in the ELCA.
The people of ELM – from the members of Proclaim to the many individuals, families, and congregations who support our ministries – are what get me most excited about this position! If you're looking for hope in the future of the church; for energetic, enthusiastic, creative, and deeply considerate leaders; and for a glimpse into God's awesome Kin-dom, look no further, it's right here!
In stepping into this role, I know I do so on the shoulders of giants. I was humbled to be counted as their colleague when I joined Proclaim six years ago, and now I look forward to the milestones we will accomplish together for the sake of the gospel and for the sake of LGBTQ+ leaders in our Church."
A graduate of Pacific Lutheran Theological Seminary in Berkeley, California, Amanda grew up on the East Coast and considers herself a true New Englander at heart. She attended Wheaton College in Norton, MA, majoring in International Relations and German Studies. After college, Amanda worked at a Domestic and Sexual Violence agency before following her call to the ministry of Word and Sacrament. She comes to Extraordinary Lutheran Ministries from Faith Lutheran Church and the community of East Hartford, Connecticut where she served as Pastor. Amanda is a member of Proclaim and served on ELM's Fund Development Team as well as a Proclaim Chaplain.
This is an exciting next chapter for ELM and we are enthusiastic Amanda has said 'Yes!' to this new call. We're thankful to you, our wonderful supporters, who make it possible for ELM to do ministry in the world. Extraordinary Lutheran Ministries believes the public witness of LGBTQ+ ministers transforms the church and enriches the world. Your support allows us to live out that belief through Proclaim, Accompaniment, and Ministry Engagement – thank you!