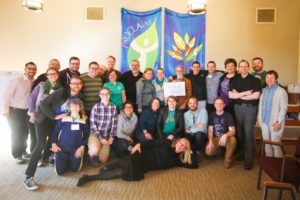 "On this day, and on every day, we give thanks for you – those of you who believe in the extraordinary ministry of LGBTQ rostered leaders."
by Amalia Vagts
Executive Director
In the poem, "Three Things," singer-songwriter and poet Carrie Newcomer writes about her practice of saying out loud three things she is grateful for from her day – ". . . Fine rain, A good friend, Fresh basil . . . "
It's a practice my pastor preached a sermon about a couple months ago, and something my partner and I have attempted to keep going regularly in our own lives.
Newcomer's poem begins this way:
Three Gratitudes
Every night before I go to sleep
I say out loud
Three things that I'm grateful for,
All the significant, insignificant
Extraordinary, ordinary stuff of my life.
It's a small practice and humble,
And yet, I find I sleep better
Holding what lightens and softens my life
Ever so briefly at the end of the day.
On a day when we often take time to say out loud the things for which we are grateful, it's good to remember there's no reason to keep this practice to one day.
I thought about this again this past week as we received donations that included little notes of thanks with the gift. These notes are so meaningful. I even have a file folder labeled "Sweet Correspondence" where I keep them. I wanted to share this one with you today:
It's about time I signed up for monthly giving to an organization that supports me as a gay seminarian and candidate for ordination in the ELCA. Thanks for all you do for me and all Proclaimers.
And this one too:
Great to meet Asher at #decolonize16. As a result of our conversations in Chicago with Asher and ELM members, I became aware of this wonderful ministry in the Lutheran church. I am sharing your resources via FB and with anyone looking for an accompaniment ministry of this kind. Thank you for your good work. In these difficult times we need to support one another more fully as the body of Christ.
On this day, and on every day, we give thanks for you – those of you who believe in the extraordinary ministry of LGBTQ rostered leaders. Thank you for your wonderful support throughout the year and for many years. Thank you for the way you share our work with your friends and colleagues. Thank you for encouragement you give directly to LGBTQ people pursuing or considering rostered ministry.
May today and your coming days be full and sweet.
Amalia Vagts has been sleeping much better since the last words she speaks at the end of the day are ones of gratitude rather than the last outrageous thing she read online.
Join us. Give in support of faithful & fabulous LGBTQ people whose public witness as pastors, deacons, and seminarians is enriching and transforming our church.