"Tension is a sign of life, and the end of tension is a sign of death." – Parker Palmer
by Amalia Vagts
Executive Director
It is hard to know what to say these days. This week, we had intended to share a guest post about the community gathered in support of the Standing Rock Sioux Tribe. That will come. In the meantime, you may want to read Bishop Eaton's statement here, where she shares why "we are called as a church to support the Standing Rock Sioux Tribe."
Instead of the guest post, I first decided to write about my visit to Pacific School of Religion last Friday with Greg Egertson, as we made the first donation of our organizational documents to the Center for LGBTQ & Gender Studies in Religion Archives Project. That is a story I will share with you soon.
But as I tried to write, two phrases kept coming back to me. First, from last week's Gospel reading from Luke, "This will give you an opportunity to testify."
Second, from political commentator/comedian John Oliver on a recent segment of his show Last Week Tonight with John Oliver, "This is not normal."
What to do?
While our country has long prided itself on the peaceful transfer of power, many are cautioning against normalizing the current state of affairs.
For example, the Southern Poverty Law Center is currently reporting 437 incidents of hateful speech and harassment since the election. The most common setting for these incidents was in our K-12 schools.
Some in our church are speaking out and acting up against hate and fear and racism, sexism, misogyny, classism, and homophobia in our communities and in our denomination. Some are inviting members of their congregations and community together for reflection and conversation. Some are laying out more specific plans. Some are amping up their engagement with social media. Some are taking a "Facebook break."
Spirit of Wisdom, Spirit of Counsel
Last week's reading from Thessalonians included these words: "Do not be weary in doing what is right."
But which of these is right? It seems to me that all of them are.
Parker Palmer writes in his book, Healing the Heart of Democracy, that "tension is a sign of life, and the end of tension is a sign of death."
We have much to learn and teach one another in the days ahead.
Because you believe in our ministry, we were here last week to host two video gatherings for members of Proclaim who as LGBTQ+ rostered leaders had to sort through their own reactions to the election while preparing sermons and services for their congregations. And in the days, weeks, and months ahead, you will help us continue supporting LGBTQ+ pastors, deacons, and seminarians. We will also be here to initiate healing conversation and to speak out against intolerance and hatred. Thanks to you, we will be here to bring good news to those who need to hear it.
At the end of the Proclaim calls last week, those on the call were offered this blessing adapted from the baptismal liturgy:
Loving God, stir up once again in your child the gift of your Holy Spirit: the spirit of wisdom and understanding, the spirit of counsel and might, the spirit of knowledge and the fear of the Lord, the spirit of joy in your presence, both now and forevermore. Amen.
In a week that seems filled with many more uncertainties than certainties, I look to reminders like these words that we will share in worship this coming Sunday, "God is our refuge and strength, a very present help in trouble."
Or to summarize my neighbor Megan's approach: resist normalcy while living fully.
May each of us be strengthened in doing what is right in troubling times.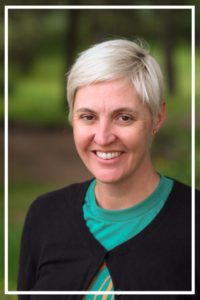 Amalia Vagts is getting out of bed and getting a hammer and a nail. When she is not helping steer the ship of Extraordinary Lutheran Ministries and needs a moment of grounding and refueling these days, you can find her writing, walking, reading, or hanging with Shannon, Feathers, Cadillac, and Tom Cruise on Planet Unicorn. She also suggests a daily dose of this. (the dance, not the green juice)
Join us.
Give in support
of faithful & fabulous LGBTQ people whose public witness as pastors, deacons, and seminarians is enriching and transforming our church.