Archive for September, 2016
Thursday, September 29th, 2016
by Rev. Sara Cogsil
Proclaim member and Associate Pastor, University Lutheran Church, East Lansing, MI
Laura and I have been married 7 years. We got married on August 22, 2009. As we made the drive from our home in Columbus to our wedding destination, we received word that the long awaited, much anticipated Churchwide decision* was made. We knew this decision would directly impact our immediate future because just a week after we were married we entered an academic year at Trinity Lutheran Seminary. Standing on the shoulders of the many who went before us, we began that year full of joy and a lot of uncertainty.
Trinity is where we spent the first four years of our marriage. We traveled the journey to ordained ministry side by side and were supported by our seminary community along the way. We experienced welcome and support for who we are and for what we have been called to be and do. It was always clear that our sexuality did not define or hinder our life within the community. Trinity was and is a safe space for us. We were deeply moved when we learned of the board vote to officially become a Reconciling in Christ Seminary. We applauded the hard work of the students and of the unanimous support of the faculty. For us, this official status declares the welcome, love, and acceptance we experienced firsthand and for that we are grateful.
Our gratitude was only expanded when Laura and I were invited to be part of the official celebration recognizing Trinity's Reconciling in Christ status. Wednesday, September 14 was that day of celebration. Laura preached and I presided. Four additional Proclaim members, Justin Ferko, Laura Ferree, David Young Romero, and Jeffery Ogonoski helped to lead worship and an additional Proclaim colleague, Rev. Brian Whitton was in attendance.
"So he told them this parable: 'Which one of you, having a hundred sheep and losing one of them, does not leave the ninety-nine in the wilderness and go after the one that is lost until he finds it? When he has found it, he lays it on his shoulders and rejoices. And when he comes home, he calls together his friends and neighbors, saying to them, "Rejoice with me, for I have found my sheep that was lost." -Luke 15:3-6
Being invited back to Trinity for this celebration was one full of rejoicing. As Laura proclaimed, "Rejoice with me, for Christ is filled with joy when God's people are reconciled together. Rejoice because the Holy Spirit has brought us to this place. Rejoice with me because in a world where we are taught that we are not like the other, Christ tells us that we are not to fear. Rejoice because Christ will never cease to search for all who are apart from God's people. Rejoice because it is Christ who carries the weight of this reality and will continue to do so until all of God's people are united as one."
We know that we live in a world where this message needs to be proclaimed! We live in a world where people are desperately yearning to hear that they matter, that they have worth, that they are loved! Laura and I give thanks for the message of love that Trinity proclaimed to us during our time there and we give thanks for the statement they have made in taking this step.
We know the work isn't done and we are thankful that Extraordinary Lutheran Ministries, Reconciling Works and Trinity Lutheran Seminary are continuing the hard conversations and advocacy. There was a time, not all that long ago, when it would have been impossible to serve in the ELCA, but now an entire worship service can be led by pastors and seminarians who publicly identify as LGBTQ. For this, we rejoice!
*In 2009 at the ELCA Churchwide Assembly, the social statement Human Sexuality:  Gift and Trust was adopted by the assembly.  Along with the social statement, ELCA polity was revised so that LGBTQ persons in relationships may now serve as rostered leaders in the ELCA (previously, LGBTQ rostered leaders were required to be celibate).
Rev. Sara Cogsil lives in East Lansing, MI with her wife Rev. Laura Kuntz. Together they balance work between their respective churches and time at home with their dog Toby. It's always a joy when they can share in ministry together.
Thursday, September 22nd, 2016
A number of members of the Proclaim community are getting involved with a movement called #decolonizeLutheranism. Today we invited the Rev. Tita Valeriano, Proclaim member and one of the organizers of the inaugural gathering, #decolonize16, to share part of her story and connection to the movement. 
It was a bittersweet journey for me when I arrived here in the United States in 1994 from the Philippines. I was reunited with my parents and some of my siblings, but as I arrived I imagined a life with my loved ones in a country that has colonized us. I had just finished my church music school studies in an ecumenical school that had been established to reclaim our identity as Filipino Christians through decolonization and contextualization of worship, liturgy and music in the church and society.
Can you imagine what I experienced learning that I had moved to another colonized world here in the United States? I escaped the freed Philippines which continually suffers from various new forms of colonization to a country built through the power of colonization, hiding its cruel effects and flourishing in power and wealth at the expense of those oppressed, most especially the indigenous people of this country. And the church is not innocent in this. I breathe being a queer immigrant woman of color everyday of my life here and most of the time it is painful. I would like to live as a liberated child of God, not only for myself but for all. This is what I signed up for when I was baptized and followed Jesus Christ. This is Christ's gift I received, and this is what I was called to be and do.
There are many more stories of colonization, individually and collectively, that all of us have heard and witnessed both in the church and society. They are painful, but also could be liberating and empowering – only if we can transform the oppressive system we live in. You can imagine it perhaps – but can we do it together? I believe that to transform our colonized world is both a gift and a task. We should do it together. We should do it now.
So, I invite you to a grassroots initiative that started in sharing stories and critiquing and exposing the colonization we still experience and live within our society and particularly in our church. A group of seminarians and clergy have started to network, share their stories and challenge themselves in the process of decolonizing themselves. Now we would like to be in solidarity with others in order to widen our reach and impact, for the sake of the gospel of Christ and the church we love. The Decolonizing Lutheranism Gathering, we hope, is to be a platform to challenge and transform the system that continues to be an oppressive power.
As a church, we cannot hide behind our programs and social statements when we continue to experience and live in this system we "inherited," where some benefit and others suffer, where some are free and some are not. We cannot raise this issue in isolated times, whenever there is a crisis or a big conference, but we want to be responsible to this process and journey of decolonization.  This journey penetrates and permeates the core of our identity, both being and living, as Lutheran Christians in the United States. The #decolonizeLutheranism page will give you more information about who we are and our hopes about who to become. It is not complete; it is evolving.  We hope to do it with you!
#decolonize16, the first conference of the #decolonizeLutheranism movement, will be held Saturday, October 22, 2016 at the Lutheran School of Theology at Chicago (1100 E 55th ST, Chicago, 60615).  Click here for more information about the conference and to register.
Rev. Tita Valeriano was born and raised in the Philippines, a third-generation Lutheran. The youngest of twelve children and a graduate from Pacific Lutheran Theological Seminary, she has served in various ministries of the church, as parish pastor, campus ministry pastor, mission development explorer, and the Lutheran World Federation's Youth/Young Adult Executive Secretary and Regional Officer for North America. Her ministry has focused on nurturing multicultural, missional church that invites and includes youth and young adults, people of color, and those at the margins of the society. Aside from music, liturgy and advocacy, her other passions that inspire and gives her joy her are traveling and meeting people from various cultures, photography, and practicing her international cooking with gathered friends in her home with her spouse, Jennifer and Taal, their toddler son.
Thursday, September 15th, 2016
by Asher O'Callaghan
ELM Program Director
For as the rain and the snow come down from heaven, and do not return there until they have watered the earth, making it bring forth and sprout, giving seed to the sower and bread to the eater, so shall my word be that goes out from my mouth; it shall not return to me empty, but it shall accomplish that which I purpose, and succeed in the thing for which I sent it. Isa 55:10-11
As the seasons are changing from summer to fall, so the schedules for many Proclaim seminarians are changing. They're back on campus (or on-line in their virtual campus!) from their Clinical Pastoral Education settings, from summer jobs, and from internship placements. And many have come from wherever they called home to their seminary campuses and are beginning to settle into their first year of courses. At most campuses, orientation is over and the fall semester is officially underway.
Recently I had the joy of meeting with the ELM Seminarian Outreach Team for this school year. The team is convened by Ben Hogue, a 3rd year student at Pacific Lutheran Theological Seminary, and is made up of one or two seminarian representatives from each of the schools where Proclaimers are attending. We meet once a month to compare notes about what's happening on each campus and share ideas and brainstorm on work to do within their campus communities.
Each of the representatives on the call was going to be involved in their seminary's orientation for new students. We discussed ways that people were getting the word out about the Proclaim community and the work of ELM. It was great to hear about the work being done on campuses across the country. And it was a great reminder of importance of the whole scope of ELM's work:
The Proclaim community gives seminarians who might be figuring out what it means to be out as an LGBTQ person and a public leader in the church a whole network of colleagues to walk on the journey with. The Accompaniment program provides resources and support as people move through the candidacy process and into first call. And Ministry Engagement works with synods and congregations to help create healthy call opportunities for these future leaders.
Even so, going through seminary is not without its challenges. The future feels like it's up in the air. Finances are tight. It's stressful figuring out how to be out on campus and as a public leader. And of course there's all the reading assignments, deadlines, and papers to attend to.
So to all of you who are supporting our Proclaim seminarians: THANK YOU!
To our seminarians themselves: THANK YOU! For saying "yes" to God's call. For taking on the expenses and sacrifices that have followed. For offering up your gifts to God, the church, and the world. For being out and letting your light shine brightly so that others know that they are not alone, that God's outrageous love is for them. Thank you for what you're doing and who you are.
If you're not a seminarian, let's take a moment and hold our Proclaim seminarians in prayer:
Loving God,
Accomplish in us all the work you have called us to. We pray especially for LGBTQ seminarians as they begin another school year. We give thanks to you for their gifts, for their identities, for their willingness to heed your call and the sacrifices they've made to do so. Raise them up as bold, faithful, and fabulous leaders in the church for the sake of your world. Kindle in them the flame. Surround them with colleagues through Proclaim and use this community to support them during times of hardship. Strengthen them in your Spirit – the Spirit of wisdom and understanding, the Spirit of counsel and might, the Spirit of knowledge and the fear of God, a Spirit of joy in your presence both now and forever more. In the name of Christ, our head. Amen.
Asher O'Callaghan is very happy to know such fabulous leaders are in seminary and preparing for rostered ministry in our church. He remembers being grateful for the Proclaim community during seminary and prays that it continues to be a source of support and inspiration for others. Asher is celebrating the changing seasons with pumpkin spice lattes, pumpkin beer, pumpkin pie, and an abundance of other pumpkin-flavored baked goods.

Thursday, September 8th, 2016
by Amalia Vagts
ELM Executive Director
On Tuesday of this week, I was in Tacoma, Washington as Proclaim member (and former ELM program director) Rev. Jen Rude was installed as University Pastor at Pacific Lutheran University. 
As we waited for the installation service to start, Rev. Jeff Johnson, also in town for the service, handed me a copy of PLU's Mast Magazine. There was Jen on the cover with the headline "PLU's first openly queer Campus Pastor preaches a message of diversity, intersectionality and activism."
It is fantastic to see your support in action as Jen and other LGBTQ people in ministry lead many different parts of church and society.
It wasn't long ago (on June 30) that ELM and Grace friends gathered at Grace Lutheran Evanston to say goodbye to Jen and Deb Derylak, Jen's spouse.
Rev. Daniel Ruen (pastor at Grace) and I co-emceed the
evening, which included a blessing from Rev. Gordon Straw (member of Grace and the ELM board), friends from Grace, a group prayer led by Rev. Erik Christensen, a rewrite of the song "Jackson" ("Tacoma," of course), a few other good-natured jokes at Jen and Deb's expense, and many heartfelt tributes. The ELM Board sent Jen and Deb off with a care package of future experiences in their new hometown and a great deal of gratitude. ELM Co-Chairs Rev. Elise Brown and Rev. Brad Froslee both attended as a surprise to Jen and Deb. ELM friend Jim Kowalski organized the event, with the help of many volunteers from Grace and ELM.
We ended the evening singing the song "Roots and Wings," a favorite song of Jen and Deb's.  "Two feet on the ground / two hands in the sky," goes the chorus.  "You can have roots and wings, at the same time."
This is an important message for Jen and Deb as they soar into their new lives, firmly grounded in the love that embraced them in Chicago and at ELM. It is also a message for all of us called into new ways of being church – together – new ways of loving our history and our future.  You can "know where you're from," and "still want to fly."

As I gathered with members of Jen's new community at Pacific Lutheran University, I couldn't help but think about all the ways Jen has left her lasting impact on ELM – and of the incredible ways she will affect the Tacoma community and beyond in her new call.
Amalia Vagts is grateful for a community that is filled with people who are remarkable – and who induce much needed belly laughs. She also thinks her bitmoji (cartoon) may come to life at any moment and take over. 
Thursday, September 1st, 2016
by Asher O'Callaghan
ELM Program Director
"Thank you, ma'am!" For years, I cringed every single time I was called "ma'am". I appreciated the respect that people were trying to show me. It's just that I hated being reminded that the rest of the world understood me to be someone I wasn't. It felt awkward and embarrassing and uncomfortable whenever I ordered a cup of coffee, or ate at a restaurant, or checked out at the grocery store. I've spent most of my life being perceived as someone I'm not: "young lady", "sister", "ma'am", "her", "she", and "hers".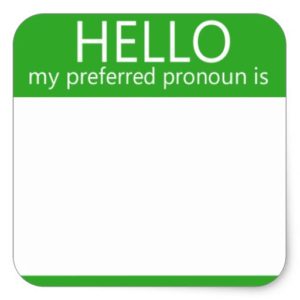 Thankfully, these days I tend to be perceived as a guy. I'm transgender, which for me means that I'm not the gender I was assigned to at birth. It's been several years now since I transitioned into living as a guy, and most of the time I don't even notice being called "sir",  "he", "him", or "brother" anymore. I have the privilege of taking it for granted. But I'm reminded every time I see a friend get misgendered in public. And I'll always remember how affirming and freeing it felt the first time someone asked me if I'd like them to start using he/him/his for me. It felt like – "Finally!! Someone is seeing and recognizing me for who I am." It's amazing what a difference words can make.
The moral of the story? You can't tell a book by the cover. Even though we're used to operating on assumptions about how people identify based on how they look, our assumptions often turn out to be inaccurate. And giving people the opportunity to ask for how they'd like to be referred to can make a big difference in helping someone feel welcomed, seen, and affirmed.
Have you noticed that ELM has some community practices regarding personal pronouns? Personal pronouns are the words that we use to refer to someone without using their actual name. Words like: she, her, hers, they, them, theirs, he, him, and his. All of ELM's staff members include pronouns in our email signatures and we ask all new Proclaim Members about what personal pronouns they use. At every meeting of the Board of Directors and every Proclaim Gathering we include personal pronouns in our introductions. We ask everyone so that everyone has an opportunity to self-identify with whatever they feel most comfortable with.
A heads-up on they/them/theirs pronouns: You might be used to seeing the words they/them/theirs being used to indicate the plural – that there is more than one person being referred to. But these can also be used to indicate a singular person. For many people, gender simply doesn't work as an either/or. And so a number of transgender or gender non-conforming people use the personal pronouns they/them/theirs. These pronouns are used in sentences the same way you might use he/him/his or she/her/hers. For example: Bob prefers they/them/theirs pronouns – Their family was proud to see them receive their seminary diploma.
+ Pay attention to the ways you use highly gendered phrases like "sir", "ma'am", "ladies and gentlemen", "brothers and sisters". If you're not actually sure of how the people you're talking to identify, it's better not to use these types of phrases.
+ If you don't know what pronouns someone uses, feel free to ask: let them know what pronouns you prefer and ask them what they prefer.
+ If it doesn't seem like an appropriate or safe space to ask someone what pronouns they prefer directly, you can always just substitute a person's actual name or title until you have a chance to ask them. 
Asher O'Callaghan has gotten into the practice of asking others what pronouns they prefer because ELM was the first organization that asked him what pronouns he prefers. It felt awesome to be asked, so he has gotten into the practice of asking others. Asher is transgender and bisexual but is not an expert on all things LGBTQ+. He's still learning and hopes you're not intimidated when learning about new language in our community or new ways to be an ally –  It's a process and we're all learning together! In his spare time, Asher serves as a loyal staff member to Jack, his cat.