Extraordinary Lutheran Ministries celebrates the life of the Rev. Bishop Stanley E. Olson. Bishop Olson was born September 4, 1926 in Omaha, Nebraska and died on July 2, 2014 in Sacramento, CA.
Bishop Olson was a champion for justice and played a formative role in the early days of Extraordinary Lutheran Ministries. In the early 1990's, he was part of the founding board of the Extraordinary Candidacy Project (ECP), which launched a pathway to certification for LGBTQ people called to ordained ministry in the Lutheran Church.
In his retirement, he continued to make a public witness in support of LGBTQ clergy. He and his spouse Mary Lou were active members of Lutheran Church of Our Redeemer in Sacramento, traveling a distance each week for worship. He was an avid supporter of Rev. Robyn Hartwig (ELM Historic Roster) and was instrumental in securing an internship for then-ECP candidate Jay Wilson (ELM Historic Roster). Bishop Olson participated in the extraordinary ordinations of the Rev. Anita Hill, the Rev. Megan Rohrer, and the Rev. Jay Wilson. In these and other numerous ways, he was a visible witness for justice.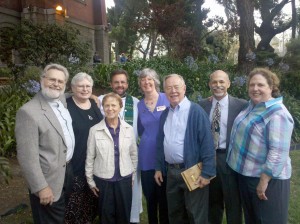 He is loved and remembered by many in this movement.  ELM Co-Chair Mike Wilker remembers him as a "beautiful force."
While Bishop Olson was known for preaching primarily from notes and memory, his daughter Sara found this snippet from a sermon he preached in 1968, speaking to the church and the civil rights movement.
"…….I am called by God to a ministry of Word AND action … a ministry that will inevitably cause the calm waters of congregational life to be whipped into the waves of a major storm. And to be less, or to do less, or to do nothing out of a fear of causing controversy in the house of God, is to be trapped by the devil. It is to be disowned by God. It is to fail His cause of love and of justice. It is to be silent when called to speak. ….. Our inoffensiveness has been offensive….. We have kept millions bound in their suffering and poverty….."
His daughter Sara also shared this anecdote and glimpse into the depth of commitment Bishop Olson had for LGBTQ issues with the following story:
"My dad had an oversized file box (plastic, twice the size of a banker's box) that was FULL of files that were all related to LGBT and the church, each file carefully labeled.   The funniest thing to me was that there was one lone file at the very back that was titled 'Not Gay Stuff' which was empty."
We give thanks for the life of Stan Olson and for the beautiful force he was in the life of this church and in the lives of so many. We offer our prayers to his wife, Mary Lou, to his children and grandchildren, and to all who mourn this loss.
At the request of the family, donations in his memory can be made to Lutheran Church of Our Redeemer, Sacramento; ReconcilingWorks, or the ELCA Foundation.
Memorial Service: Saturday, July 19 at 11 a.m., St. John's Lutheran Church, Sacramento (1701 L St, Sacramento, CA 95811)
Condolences can be sent to his wife Mary Lou at 4307 Garden Oak Ct., Sacramento CA 95841 or by email care of daughter Sara (sorehms956@aol.com).
"If we live, we live to the Lord, and if we die, we die to the Lord; so then, whether we live or whether we die, we are the Lord's." – Romans 14:8