Quick Question: What do you guys want for Christmas?
By Bruce Jervis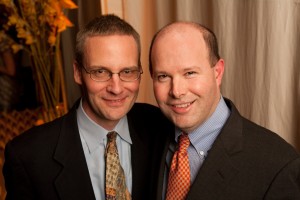 My spouse, Jim Kowalski, and I both read the e-mail a few years ago one afternoon in late November. It was just a few lines long, from a dear friend asking what we wanted for Christmas – sent ahead of time so that our reply could inform his gift shopping before our mid-December planned get together. A few days later, two different relatives separately asked the same question by phone.
We thought about it for a while, trying to come up with something to suggest. Something nice, but easy for the shopper to find. Something that wasn't too big and was definitely affordable. Nothing came to mind. Sure – there were things we wanted (like to demolish and fully remodel our upstairs bathroom – since done!) but nothing that we felt right to ask for as gifts from family and friends. We knew we had to give an answer or else be given something that sat there, not needed or wanted – and ultimately never used.
As we were giving our annual gift to Extraordinary Lutheran Ministries, we spent a few minutes reflecting on the amazing work ELM does, supporting LGBTQ clergy and the ministries they serve. We smiled with joy thinking about the ELM-affiliated pastors who make such differences in the lives of those they proclaim the Gospel among. Then it just clicked – why not ask our friends and family to make donations to ELM as our gift!
We asked. They gave! Many of them continue to give each year. We're truly grateful for their ongoing support of an organization we love!
Maybe your friends and relatives would want to give to ELM as their gift to you, too! Please consider adding support of ELM to your Christmas wish list this year. Thank you!
Bruce Jervis and Jim Kowalski are long-time supporters of ELM and members of St. Francis Lutheran Church in San Francisco. Jim currently serves on the ELM Board.