The 2013 Proclaim retreat is just over a month away.  The Proclaim retreat is a gathering of publicly identified LGBTQ rostered leaders and seminarians for a time of renewal, community building, and professional development.  The retreat planning team is made up of dedicated volunteers who plan the program.
Registration for the retreat ends on Wednesday, March 13th. Know someone you think should attend? Send them here. 
 Sampling of Speakers and Workshops
Bishop Yvette Flunder: Keynote Address
Bishop Flunder is the founder and pastor of The City of Refuge UCC in San Francisco, CA.  City of Refuge is a thriving inner-city congregation that celebrates the radically inclusive love of Jesus Christ.  In June 2003 Bishop Flunder was consecrated Presiding Bishop of The Fellowship, a multi-denominational fellowship of 110 primarily African American Christian leaders and laity representing 56 churches and faith-based organizations from all parts of the United States Mexico and Africa. For more on Bishop Flunder go here.
Asher O'Callaghan, Joel Workin scholar: LGBTQ Genders in Public Ministry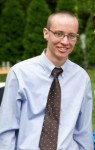 Asher came to the Lutheran church via House For All Sinners and Saints in Denver, Colorado.  He began his graduate coursework at Iliff School of Theology in Denver before transferring to Luther Seminary where he is now studying.  Asher has a focus on service to others through mission work, caring for those with mental health concerns, and making personal witness as a person who found Christ anew in Lutheran liturgy and theology.
Becca Seely, Joel Workin scholar: Workshop on Prayer and Poetry—Times for Renewal and Reflection
Becca is currently  fulfilling her Lutheran Year at Pacific Lutheran Theological Seminary. Last year, Becca completed an internship as a chaplain at the Christian Hospital in St. Louis, MO.  Becca received her undergraduate degree at Wesleyan University, with a focus on European literature, history and philosophy and a minor in Jewish and Israel Studies.
Rev. Robyn Hartwig: Workshop on EcoFaith Recovery, a new ministry supported by ELM
EcoFaith Recovery is based in Portland, OR.  EcoFaith Recovery nurtures faith-based recovery groups and relational leadership networks to help individuals, communities and institutions emerge from our intoxication with consumerism to recover our relatedness to God, ourselves, one another, and the entire Earth community.  EcoFaith Recovery engages in theological reform, incites action to reduce the climate crisis, fosters the renewal of community life in the Pacific Northwest, and offers a practical model for people of faith throughout the country.
Rev. Lura Groen: Workshop on re-rooting a congregation in the neighborhood & community
Rev. Groen has been the pastor at Grace Lutheran Church in Houston, Texas since 2008.  Grace works on a number of justice ministries such as micro financing, AIDS walks, and supporting the local food pantry.  Grace Lutheran serves its neighborhood through Montrose Grace Place, a separately incorporated non-profit, created to provide food, friends and hope to homeless youth of all sexual orientations and gender identities.  This workshop will explore how the creation of Montrose Grace Place re-rooted Grace Lutheran in the Montrose community.
Presentation from 4M Ministries: Creating a space of inclusiveness specifically to those on the margins
The vision of 4M Ministries is to create intentionally innovative spaces that embrace the diversity of gender, gender expression, and the spiritual exploration of God's creation in the spirit of faith, love, peace, and liberation.
 Proclaim is funded in part by a grant from the E. Rhodes and Leona B. Carpenter Foundation and Extraordinary Lutheran Ministries donors.