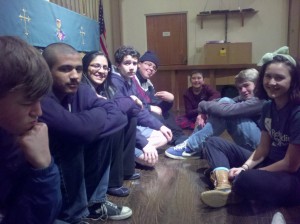 This year ELM donors are supporting the East Bay Lutheran Youth Program, a  joint youth ministry program led by Proclaim member Rev. Craig Minich.
The EBLYP had a busy holiday season and is kicking off 2012 with a flurry of activity. The EBLYP is made up of youth from grades 3 to 12 and their families. December was full of bowling, ice skating and Christmas events. The senior high youth (SNL) held two fundraisers in preparations for their journey to New Orleans in July for the National Youth Gathering and the Multi-Cultural Youth Leadership Event. One fundraiser was a Parent's Night Out baby-sitting fundraiser organized by the high school aged group SNL, Pastor Craig shares:
"We set up a Christmas tree with the kids, and made home-made decorations to hang on it. We played games, prayed, baked Christmas cookies for Christmas Eve family service with chefs Mitchell and Tim, and settled down to watch a movie. On December 10th (the very next morning) SNLers hosted an all EBLYP church Breakfast with Santa! Our youth made bacon and pancakes and served fruit for breakfast, made ornaments at the craft table with the kids, and we were visited by Santa himself promptly at 10 am (this time of season he is a busy guy!). It was really endearing to see all the kids get their pictures with Santa and raise some money in the process!! "
In both December and January youth served meals for elderly homeless  folks at St. Mary's Place. 2012 looks to be a very busy year for this ministry and your support helps makes ministry like this happen.