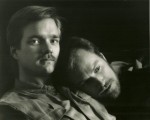 Joel Raydon Workin (1961-1995) was born in Fargo, ND, and grew up on a farm in nearby Walcott.  He received his Master of Divinity from Pacific Lutheran Theological Seminary, Berkeley, CA.  In 1986 Joel interned at Holy Trinity Lutheran Church, Inglewood, CA.  In the fall of 1987, Joel came out publicly as a gay candidate for the ordained ministry and was certified for call by the American Lutheran Church (a predecessor body to the Evangelical Lutheran Church in America).  Following this courageous and faithful act, Joel's certification was revoked by the ELCA and his name was never placed on the roster of approved candidates waiting for call.  Joel's ministry continued in Los Angeles, however, at the AIDS Healthcare Foundation and as Director of Chris Brownlie Hospice.  On December 30, 1988, Joel married Paul Jenkins.  Joel was a member of St. Matthew's Lutheran Church, North Hollywood.  He and Paul were active in Lutherans Concerned/Los Angeles and Dignity/Los Angeles.  Paul died of AIDS on June 6, 1993.
In the last weeks of his illness, Joel gave his friends and family permission to sponsor an endowed memorial fund in his name. The Joel R. Workin Memorial Scholarship Fund was thus established upon Joel's death on November 29, 1995.  In keeping with Joel's wishes, awards from the fund are used to provide scholarships to publicly-identified lesbian, gay, bisexual, transgender and queer seminary students who seek to change the church and society through their ministry. The fund is managed by Extraordinary Lutheran Ministries, through the Lutheran Community Foundation.
Thanks to a special gift given by Joel's parents in honor of the life of the late Bp. Paul E. Egertson, ELM will award two $1,000 grants from the memorial fund this year. Previous Joel R. Workin Memorial Scholars include Rev. Jen Rude, Matthew James, and Julie Boleyn.
This scholarship is available for publicly-identified lesbian, gay, bisexual, transgender, and queer Lutheran seminarians.  Applicants must be members of Proclaim.  Click here to download a Proclaim membership form. The deadline for applications is  Wednesday June 1. Electronic submissions should be sent to 0perations@elm.org by Midnight Central Time on June 1st. Download the scholarship application here.
This award comes with a scholarship to LGBTQ seminarians who embody Joel's passion for justice and faith in their lives and ministry. In addition, the Scholar(s) may be invited throughout the year to be involved with various ELM activities.  Co-Chairs of the Joel R. Working Memorial Scholarship Endowment Committee are Rev. Jeff R. Johnson and Greg A. Egertson, beloved friends and classmates of Joel's.
We warmly invite you to apply or encourage eligible persons to do so.   If you would like to make a gift designated for the Joel R. Workin Endowment Fund, please contact Amalia  Vagts, ELM Executive Director at director@elm.org or 563-382-6277.  Please consider making a planned gift from your estate to this fund.