The Board of Directors of Extraordinary Lutheran Ministries announces that Executive Director Amalia Vagts will conclude her role in July 2017 and begin the process of becoming a minister of word and sacrament in the Evangelical Lutheran Church in America.
The Rev. Dr. Elise Brown, board co-chair, notes:
When Amalia announced her decision to attend seminary to the board last October, it received the news with joy and gratitude. Amalia's leadership and collaborative spirit have strengthened programming, created connections inside and outside of the Lutheran church, and built a strong financial foundation for ELM as she proclaimed the ways the church is blessed by LGBTQ+ clergy and seminarians. Her leadership and work have been a great gift. While difficult to say goodbye to such a talented executive director, supporting Amalia in her deeper sense of call and vocation is thrilling for the board.
Vagts' last day of work will be July 31, 2017. The Rev. Brad Froslee, board co-chair, says a search process will begin at the end of March with the plan to have a new executive director in place in July.
In sharing her news with the board, Amalia writes: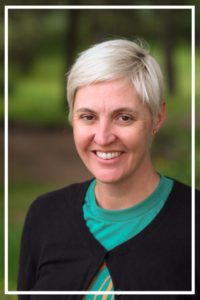 I have been transformed by the experiences I have had these past ten and a half years. You invited me into your living rooms, sanctuaries, offices and hearts and shared your sorrows, joys, and stories with me. Thank you. Our work together has changed my life. The people who make up Extraordinary Lutheran Ministries as friends, board members, and the Proclaim community are truly faithful and fabulous. I feel a sense of deep fulfillment and clear that my calling is now leading me elsewhere. I will leave feeling confident that Extraordinary Lutheran Ministries is healthy, adaptable, and ready to receive your next executive director. It is impossible to imagine my life without the people who make ELM what it is and I'm thankful that I don't have to! With joy, I will continue to wholeheartedly support ELM as a donor and friend and connect in new ways as a future Proclaim member. And for now, I'm getting back to work for the next five months!
Vagts' tenure at ELM has been a time of great growth and change for the organization. She has overseen the expansion of ELM's three programs, strengthened connections with donors and supporters, and has worked closely with congregations, synods, and bishops across the country. Brown shares, "The passion and faith Amalia brings to this work is unsurpassed. She is thoughtful, forthright and quick to add both deeper insights and moments of levity. That unique combination of gifts has served ELM very well over these 10 years. She has been an extraordinary leader during an extraordinary time."
During her more than ten years with ELM, Vagts has been instrumental in the changes in ELM and the church. She was hired as the development director of Lutheran Lesbian and Gay Ministries in October 2006. Shortly after that Vagts co-facilitated the merger of LLGM with the Extraordinary Candidacy Project. In 2008, ELM hired Vagts at its first executive director.
Through Vagts' leadership and skill, ELM doubled the number of extraordinary ordinations and calls to publicly identified LGBTQ+ ministers before the ELCA's policy change in 2009. That year there were 46 members of the Extraordinary Roster–a community of resistance and hope that provided prophetic witness and pastoral leadership in communities often ignored and oppressed by the church and society. Today, the Proclaim community has 245 members, and continues to grow.
As board co-chairs, Brown and Froslee are working with the full board to appoint a Search Committee and will lay out the next steps for succession in the coming week. Additionally, the board will host gatherings across the country to allow those who have worked closely with Amalia to celebrate and honor her work.
ELM gives thanks for a gifted leader who has given her heart and soul to the work of Extraordinary Lutheran Ministries to proclaim a place of welcome, grace, justice, and leadership in the Lutheran church and far beyond. Through her, God has unleashed the proclamation of the gospel.
Froslee says, "ELM vibrantly responds to God's love and call to justice. It's a gracious, strong, and creative ministry. We're looking forward to the future and the new leader."