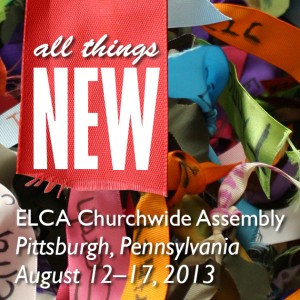 Will you be at the  2013 ELCA Churchwide Assembly August 12-17 in Pittsburgh, Pennsylvania? ELM's Executive Director Amalia Vagts and many Proclaim members will be attending the Assembly. If you would like to meet up with Amalia or other ELM supporters, send her an email: Director@elm.org.
Additionally, our movement partner ReconcilingWorks has a full schedule of activities and programs lined up- check their website here. ReconcilingWorks advocates for the full inclusion of lesbian, gay, bisexual, and transgender Lutherans in all aspects of the life of their Church and congregations. You can get involved with their efforts through their website.
Some Highlights:
Festival Eucharist (Hosted by ReconcilingWorks and ELM)
Wednesday, August 14, 8:00 pm
Omni William Penn Hotel, Grand Ballroom
Join in festive worship and celebration of LGBTQ church leaders and allies with the Rev. Dr. R. Guy Erwin, bishop-elect of the Southwest California Synod, preaching, and the Rev. Dean Nelson, bishop of the Southwest California Synod, presiding.
Reception with Bishop-Elect Guy Erwin (Hosted by ReconcilingWorks)
Tuesday, August 13, 8:00 pm
Convention Center, Room 408
The election of the Rev. Dr. R. Guy Erwin marks two historic firsts: the first openly gay and first Native American bishop of the ELCA. Guy is a member of Proclaim, the professional community for Lutheran pastors, rostered lay leaders and seminarians who publicly identify as LGBTQ.
Rev. Tita Valeriano Presiding on Friday, August 8th. 
We are very excited and joyful that the Rev. Teresita Valeriano will preside at the ELCA Churchwide Assembly worship on Friday morning! Tita is a member of Proclaim. ELM will be posting and in-depth interview with Tita next week!
Follow ELM at the 2013 Churchwide Assembly through out social media channels:  Facebook and Twitter