Today we hear from guest blogger, Cary Bass a member of the Proclaim community currently living in the Bay Area. Cary is a 2012 Extraordinary Lutheran Ministries seminarian internship grant recipient. 
A reflection on my wedding and marriage equality
Michael and I began dating in 2006, and we moved to San Francisco to follow my career less than two years later. In March of that year, he proposed marriage to me, and I accepted. This was not yet an easy proposition. At that time, Massachusetts was the only state in the United States permitting same-sex unions. Canada was also a possibility for us, especially given that Michael was born a Canadian. As what happens with many couples, we did not quickly decide on a date; preferring to wait until we had more time to prepare for the blessed event.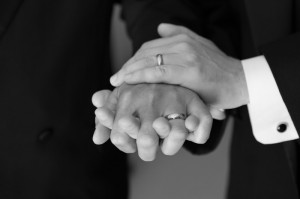 Two months later, the California Supreme Court overturned the state's ban on same-sex unions, opening the door for the possibility of getting married right where we lived. As we know from history, this window was only open for just over four months, after which time, the state constitutional amendment known as Proposition 8 passed by minimal margins of 52.47% to 47.53%, ending the hope for legally recognized marriage between Michael and I. 
Why did we wait? There are several reasons, not the least of which was that I refused to contemplate that Proposition 8 would actually pass. Additionally, we consider marriage to be a sacred rite, more than just a legally binding document between two people. For myself to enter into this sacred bond with another person meant to make it publicly affirming, thereby allowing the opportunity for our friends and family to be a part of it. As both of our families live in the eastern part of the United States, this meant announcing the event long before it was to take place; and there was just not enough time before election day.
Furthermore, to us marriage involves a sacred and holy ceremony, involving God. For us that means a member of clergy perform it and it take place in a church. 
On June 9, 2012, Michael and I entered the bond of holy union. The ceremony was presided by Sarah Birdsall Isakson at Lutheran Church of the Cross in Berkeley. Many of our family and friends were in attendance.
While the same-sex marriage debate rolls on around us, Michael and I now consider ourselves joined in holy matrimony. I find it ironic given the nature of complaints that my marriage is recognized by the churches we attend and my seminary. Our family recognizes it. Our friends. The only thing missing is that of our state government. It saddens me that there are members of our own faith who sincerely believe that the recognition by the government of same-sex unions impinges on their religious freedoms, while it is evident to me that its non-recognition is a violation of my religious freedom and the millions of others who believe that marriage applies to us as well.
Cary Bass is a 45 year old Candidate for Ministry with the Sierra Pacific synod.  Prior to his clergy life, he worked as the volunteer coordinator for the Wikimedia Foundation, the organization behind Wikipedia, and as a writer, having published two short stories.  He lives full time with his spouse, Michael in their home in North Oakland, and Banjo, a 10-year old Staffordshire Terrier/Boxer mix.