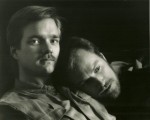 The 2012 application for the Joel Workin Scholarship is now available. This award comes with a scholarship for LGBTQ seminarians who embody Joel's passion for justice and faith in their lives and ministry. In addition, the Scholar may be invited throughout the year to be involved with various ELM activities. This award is open to all LGBTQ seminarians who are members of Proclaim.  Click here for a Proclaim membership form.  It comes with a $1,000 scholarship which may be used for tuition, educational costs, spiritual and professional development, and candidacy expenses.
The Joel R. Working Memorial Scholarship Endowment Committee includes Joel's friends and former classmates, the Rev. Jeff R. Johnson and Greg Egertson; friend and former co-worker, Michael Nelson;  first Workin recipient, the Rev. Jen Rude; and ELM Executive Director, Amalia Vagts.  We warmly invite you to apply or encourage eligible persons to do so.  Go here for the application.
The application deadline is Friday, May 4 and all materials must be submitted electronically this year to Director@elm.org. We will announce the recipients May 29th (on Joel's birthday).
For more information about Joel go here.
If you would like to make a gift designated for the Joel R. Workin Endowment Fund, please contact Amalia  Vagts, ELM Executive Director at director@elm.org or 563-382-6277.  Please consider making a planned gift from your estate to this fund.