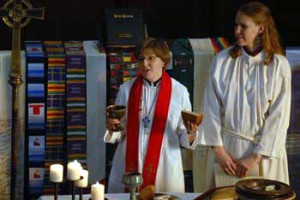 Pastor Jen began serving Salem English Lutheran Church in Minneapolis, MN in 2003 and was ordained on January 19, 2008.  She combines urban ministry experience, a love for working with congregations in the midst of transformation and change, and a deep care for the people of Salem and the neighborhood. Her work includes the usual pastoral duties (preaching, teaching, worship leadership, pastoral care) as well as walking with Salem in this time of re-development and partnership–a challenging balancing act and yet one that gives Jen energy. Jen is trained in intentional interim ministry.
She holds an M.Div. from University of Chicago-Divinity School, completed work at Lutheran School of Theology in Chicago and earned a B.A. at Concordia College, Moorhead Minnesota. She's served at Central Lutheran Church and Hennepin County Medical Center in Minneapolis, in Africa, Chicago, Michigan, and outdoor ministry settings.
Jen has served on the Central Committee of the World Council of Churches.  She is a leader in the Minneapolis Area Synod and currently serves as the Co-Chair of the Extraordinary Lutheran Ministries Board of Directors.  Jen's spouse, Rev. Jane McBride, is a pastor in the United Church of Christ and they have a young daughter.
Rev. Jen Nagel was received onto the ELCA clergy roster in 2010.