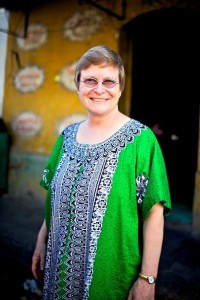 Anita serves as Co-Pastor of St. Paul-Reformation Lutheran Church with Keith Olstad. Global and local ministry has her attention via two sister parish relationships, one in El Salvador and the other in Nigeria. While going global in scope, her ministry is intensely local in her work with Isaiah (a Gamaliel faith based community organizing affiliate) to assure that the central corridor light rail line between the downtown areas of Minneapolis and Saint Paul will maintain and enhance the livability, diversity, and cohesion of the neighborhoods. Her priorities include racial, economic, and GLBT justice, affordable housing, and transportation equity.
Anita currently serves as a chaplain for the ELM Roster. She was ordained on April 28, 2001. She has been on the pastoral staff at St. Paul-Reformation since 1994. In addition, she served as Ministry Associate of Wingspan Ministry of the congregation from 1983-90. Anita is known through the region and the U.S. for her integrity, compassion and pastoral identity as she has worked to advocate for the full inclusion of marginalized peoples into the mainstream of our society. Anita has an M.A. degree in Religious Studies and M. Div. Degree from United Theological Seminary of the Twin Cities.
She and her partner, Janelle Bussert, are sponsoring and sharing their home with a mother and son who are seeking asylum in the USA.  Pastor Anita Hill was received on the ELCA Clergy Roster in a special "Rite of Reception" in the Saint Paul Area Synod on September 18, 2010, in a special celebration with ELM roster colleagues Ruth Frost and Phyllis Zillhart.