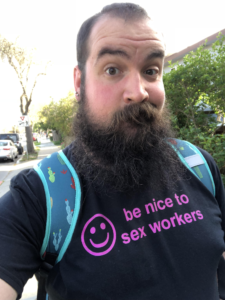 S. Leon LaCross
Ministry setting
PLTS, 2019-2020 Pastoral Intern at St Paul Lutheran Church Santa Monica
What brings you joy in your ministry?
Sharing the gospel and seeing Christ's transformative power.
Who inspires you in ministry or seminary?
Kirsi Stjerna, Jesus, so many more
What are your interests outside of ministry?
Cooking, nature, crafting
Best meal you've ever eaten?
After not having Mexican food for 6 months in Australia, having enchiladas con mole at Los Amates in Fitzroy, Victoria Australia
Brief bio
S. Leon LaCross (he/they) is finishing up his final semester of academic work at Pacific Lutheran Theological Seminary (PLTS) in Berkeley, California. This summer he will begin his internship year at St. Paul's Lutheran Church in Santa Monica, California. He is working on his MDiv with the aim of being ordained in the Evangelical Lutheran Church in America (ELCA). His academic interests are centered around sex, sexuality, and gender. He is the current Joel R. Workin Scholar through Extraordinary Lutheran Ministries. Aside from academic work, he enjoys cooking, gardening, gaming and otherwise spending time with his loved ones.
Did you always want to be clergy?
When I was serving sex workers in Washington, DC