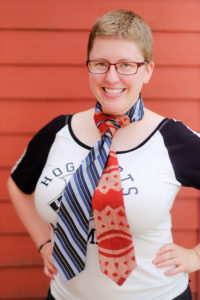 Rev. Emily E. Ewing
Des Moines, IA
they/them/theirs
https://www.hpatchurch.wordpress.com/
Ministry setting
I'm currently on leave from call and enjoying opportunities for pulpit supply, blogging, and podcasting.
What brings you joy in your ministry?
My deepest joy comes from my trust in God's loving grace for all of creation. Out of this love and trust I receive joy in:

Stories! I love stories and in learning others' stories, I am continually surprised by the Holy Spirit at work in people's lives and in relationships.

Receiving communion (I can't get enough of it, really) and preaching both as a devotional practice and as a way of connecting with God's good news for our situations.

In addition I find great joy in joining together with other folks to embody hope by publicly witnessing against injustices, and for peace and justice.
Who inspires you in ministry or seminary?
The people I know who have taken risks to follow God's call in their lives and into the world—many of my seminary professors did just that as part of Seminex, many awesome Proclaim pastors did that, and many of the random amazing people I have known and continue to know in my life do that every day.

Especially more recently I have been inspired by folks who take risks in subversive yet faithful ways. Folks who risk lives and livelihood for a better life or the hope and possibility of one.
What are your interests outside of ministry?
Harry Potter! Reading in general is wonderful, but I definitely love Harry Potter more than I have words for.

Speaking, reading, and hearing Spanish also warms my heart.

I quite enjoy sitting and talking to others and going for walks (wait, is that inside or outside of ministry?). As an introvert who loves people, deep friendships and conversations give me joy, energy, and hope. I also like to knit, puzzle, and do artwork.
Best meal you've ever eaten?
Even though I'm now a vegetarian, my dad's stuffed shells (with burger, ricotta, spinach, and lots of magic) will always be my favorite food and my favorite meal at home.
Brief bio
I grew up in the mountains of Colorado before attending college in Decorah, Iowa. At Luther College I triple majored in Spanish, Religion, and Women's and Gender Studies. After college, I spent a year in the small village of Rankovce in eastern Slovakia with the ELCA's Young Adults in Global Mission program. While in Slovakia, I worked with and accompanied Roma in the community. Following that, I began seminary at the Lutheran School of Theology at Chicago, graduating in May of 2014. After my first call, serving with the people of Christ the King Lutheran Church in South Jordan, Utah, I headed to Southeastern Minnesota to serve as pastor of Trinity Fellowship (ELCA) and First Presbyterian Church.
Did you always want to be clergy?
No. Growing up I wanted to be President of the United States. During college, I spent a semester in Buenos Aires, Argentina where I spent some time in deep discernment and realized that I was a queer woman. When I returned to Luther College, I wrestled with the various parts of my identity, represented in my three majors of Spanish, Religion, and Women's and Gender Studies and the sense of call I was discerning toward ordained ministry. While I was at a leadership conference, Rev. Heidi Neumark preached about her congregation, which incorporated all of the parts of who I was that I wasn't sure fit into ordained ministry. It was an epiphany moment for me in which God made clear to me that I could, in fact, be a pastor, be myself, and care about what I care about. Since then (and even before then), my journey has been a lot of wonderful and hard steps along the way.