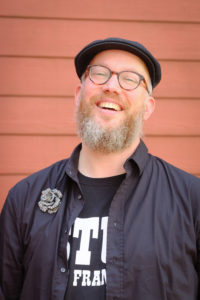 John M. Brett
San Francisco, CA
he/him/his *mostly
Ministry setting
The San Francisco Night Ministry & The Gubbio Project
What brings you joy in your ministry?
My deepest joys of ministry have been found in adult education hours & in offering sermons on Sunday mornings, that, and engaging people about Christian faith next to taco trucks. If Jesus were around today, he might hang out at taco trucks.
Who inspires you in ministry or seminary?
Bonhoeffer, Robert Wilson (Byrd Hoffman School of Byrds), The Sisters of Perpetual Indulgence, Audre Lorde, Oscar Romero, Elaina Styblo, J. Kameron Carter, & bartenders almost everywhere who care for the people churches have left behind.
What are your interests outside of ministry?
Theatre, art, poetry, hiking & the outdoors, table games, & entertaining spontaneous flights of whimsy, as well as smart men.
Best meal you've ever eaten?
A breakfast solely made up of a large, white peach, circa 1993, Japan. Me: sitting in a semi-rural farmhouse looking wide-eyed at the peach (of which I have never again found an equal). The peach: sized slightly larger than two of my fists, completely unblemished. Later the peach flesh maintained a delicate firmness even while crushed against the roof of my mouth and it slowly turned into a satisfyingly sweet, honey-summer juice. Napkins: plentiful.
Did you always want to be clergy?
I first remember wanting to be a lawyer. That said, the first marriage I was ever asked to perform was for Craig and Ginger out on the 3rd grade playground one frosty spring morning before school. By 10th grade a classmate had written of an imagined 20th high school reunion I attended after becoming pope. Between those years, 3rd and 10th grades, I had imagined myself becoming an actor or a politician, so, same difference.