June is LGBTQ Pride month!  It's a time to celebrate and honor the lives and witness of LGBTQ people and allies through parades, festivals, advocacy, worship, and more.  Our Proclaim members all over the country are celebrating with their faith communities and publicly proclaiming God's love for all.
Proclaim member Rev. Dan Hooper was recently awarded a Local Hero Award in Los Angeles.  See the short video and article about his work with LGBTQ folks coming out of the prison system.
Biship Guy Erwin, the first openly gay partnered bishop of the ELCA, and a member of Proclaim, offered a special pride video greeting.
Here's how other Proclaim members are celebrating Pride:
Brian Whitton on internship in Columbus, OH: "I'm helping organize ELCA congregations to march. We're expecting 70 or more people. We have t-shirts, will be handing out thousands of flyers for RIC congregations, and plan on singing "Marching in the Light of God" along the way."  
Nancy Wichmann, seminarian:  "Here in Boston, I will be marching with the Synod's LGBT Inclusion Team, and then helping out at the MCC booth (that's where I preach)."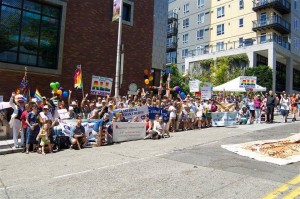 David De Block, AIM, Seattle Pride: "150+ Lutherans marched together representing 17 congregations and 3 organizations. Been a tradition for about a decade now! (Central Lutheran Church and Open Door Ministries are the organizers)."
Rev. Matt Bode, Detroit, MI: "Spirit of Hope and Central United Methodist put "God is Love" tatoos on hundreds of Pride participants. Prayers, dancing, organizing, drag shows and love had by all! There is no party like a Detroit party!!"
Rev. Susan Halvor, Alaska:  At Pridefest in Anchorage, Alaska, Lutheran Church of Hope sponsored a booth (with "booth sitters" from a variety of congregations), sharing the news of God's welcome and offering an apology to those who have been hurt by the church. Proclaim member Susan Halvor joined her fellow Lutheran clergy and laity in providing a welcoming presence, and was one of the speakers the next day at a community ecumenical Pride service, also hosted by Lutheran Church of Hope. Many thanks to Pastor Julia Seymour for her leadership in the Anchorage Lutheran community during Pridefest this week!
Chicago, IL:  Proclaim Pastors Erik Christensen and Julie Boleyn, along with many others, helped plan a series of events focused on the status of LGBTI people in many nations across Africa.  Pastor Judith Kotzé and Ingrid Schoonraad from South Africa's Inclusive & Affirming Ministries (IAM) were present for a variety of public events to share their work and deepen relationships with faith leaders and activists across the city.  Details at: http://bit.ly/ChicagoLGBTIForum
Your gift supports LGBTQ pastors, candidates, and seminarians as they proclaim God's love for ALL people through their lives and ministries.  We are proud to be in partnership together.  Happy Pride!